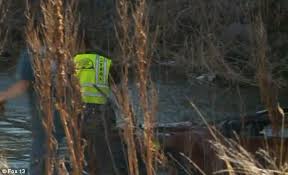 On 8th of March, police officials reported to arrive at a scene where a woman was heard, earnestly calling for help. At first the officials did not recognize the voice but then felt that it was coming from the car upside down the river nearby. The officer said that the voice was very surreal and low and felt like someone's call for help.
Rushing to the scene, the four officers found the car wreckage, badly damage. Inside the car were a dead woman's body and miraculously 18 months old baby trapped in the car, unconscious yet alive. The mother died right on the spot whereas child was in an unconscious state. Her eyelids were hovering, which indicated that she was alive and breathing.  The wreckage was taken into custody for further inspection and to know the possible reason of the accident. Though apparently there seem no signs of the mother being drunk or any sorts of drugs that could have played a role.
The officers, without wastage of time, rushed the child to a nearby hospital. According to the doctors, baby lily's health showed mind boggling improvement since day one and surprisingly she seems completely fine and watching cartoons as if nothing happened.
On 12th of March, lily got released from the hospital, sound and healthy. According to the children's hospital representative other than few bruises child is perfectly in good condition physically and psychologically. Her father is reported to have said that lily is playing, talking and reciting rhymes like she normally does. Though, the family is deeply saddened at the tragic and uncertain death of lily's mother. It sure is the difficult time for the entire family.