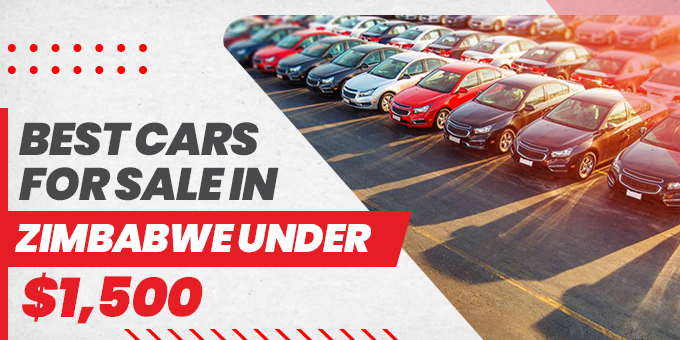 In the diverse automotive market, the task of finding the best cars for sale in Zimbabwe under $1,500 can prove to be a rewarding yet undeniably challenging endeavor. As an astute and discerning car shopper, your criteria extend well beyond mere affordability; you are actively and diligently seeking a harmonious and well-rounded combination of value, reliability, and impressive performance.
In this guide, we will explore the top choices available to you in this price range, helping you make an informed decision.
Why Choose a Car Under $1500?
Before we delve into our list of top picks, let's discuss why opting for a car under $ 1,500 might be a smart choice. While it's true that a higher budget can grant you access to newer models with more features, there are compelling reasons to consider the affordability of cheap cars in Zimbabwe:
Cost-Efficiency
Cars in this price range typically have lower insurance premiums, reduced taxes, and minimal depreciation. You'll save money not only on the purchase but also on the long-term ownership costs.
Ideal for First-Time Buyers
If you're a first-time car buyer or a student, a budget-friendly vehicle can be a practical and affordable way to get on the road.
Lower Maintenance Costs
Many older models are renowned for their simplicity, making them easier and cheaper to maintain. Plus, you can often find affordable replacement parts.
Top Picks for Budget Cars in Zimbabwe
Now, let's delve into the heart of the matter. Below, we have compiled a list of the top vehicles under $1500 available for sale in Zimbabwe. Each of these vehicles presents a distinctive combination of value, reliability, and affordability.
The Toyota Porte, a compact yet highly versatile vehicle, has been making waves in the automotive market since its introduction. A variety of amenities that meet the requirements of contemporary drivers are available on the 2014 model.
The appearance of the 2014 Toyota Porte sets it apart from rivals in an unconventional manner. Its compact dimensions make it a breeze to maneuver through city streets, while the unique styling adds a touch of sophistication. The front grille is elegantly designed, giving the Porte a refined look. The large windows not only enhance visibility but also create an open and airy interior atmosphere.
Features and Technology
The 2014 Porte's creative use of internal space is one of its distinguishing qualities. The inside is surprisingly roomy despite its small size, offering space for both the driver and passengers to stand and to sit comfortably. It is a practical option for families because of the rear sliding doors' quick access to the back seats. Even on lengthy trips, the ride will be comfortable thanks to the well-padded, comfy seats.
Under the hood, the 2014 Porte typically has a fuel-efficient 1.3-liter engine. Even though it might not have the strongest engine in its class, it provides sufficient performance for daily commuting and city driving. The outstanding fuel efficiency is the actual benefit in this case, making it a sensible pick for individuals trying to reduce their fuel costs.
The Porte's compact size translates to excellent maneuverability. It comfortably handles metropolitan streets, making parking and maneuvering confined places a hassle-free experience. The overall ride is smooth and pleasant, and the handling is quick.
Among the array of Zimbabwe cheap cars for sale is the Mazda Familia Van 2015. Notably, it stands out as a compact and practical vehicle, gaining popularity among businesses and individuals alike. This versatile and reliable workhorse is renowned for its efficiency and maneuverability. Additionally, the van offers a diverse range of features, making it a compelling and practical choice for various transportation needs.
The Mazda Familia Van proudly boasts a compact and highly functional design, placing a strong emphasis on utility. Distinguished by clean lines and a streamlined profile, it emerges as an ideal choice for navigating the bustling thoroughfares of busy city streets. Moreover, owing to its small size, the van effortlessly maneuvers through confined spaces such as parking lots and narrow alleyways. Although utility is given priority in the design, it still has a contemporary and polished look. 
Features and Technology
Inside the 2015 Familia Van, you'll find a well-thought-out and spacious cabin. When running errands or deliveries in the city, the driver's position offers a commanding perspective of the road that improves vision. The interior materials are durable and easy to clean, catering to the needs of businesses that rely on the van for daily use.
One of the standout features of the Familia Van is its ample cargo space. Whether you're transporting goods, equipment, or luggage, this van offers a surprisingly generous cargo area, given its compact exterior. The rear cargo space is easily accessible through sliding doors, and the flat load floor makes loading and unloading a breeze.
A dependable and fuel-efficient engine is normally standard on the 2015 Mazda Familia Van. It might not have quick acceleration, but it has enough power for commuting and other urban transportation needs. The real advantage is its excellent fuel efficiency, making it an economical choice for businesses looking to reduce operating costs. The van's engine is known for its longevity and low maintenance requirements, adding to its appeal. Explore a diverse range of fascinating cars at SBT Zimbabwe.
Handling and Safety
One of the most notable characteristics of the Familia Van is its exceptional maneuverability. Its small size and precise handling make it simple to maneuver through crowded cities and around tight turns. This agility is a significant advantage for businesses that rely on frequent deliveries or pickups in city environments. Anti-lock brakes, stability control, and airbags are examples of standard safety measures. However, it's advisable to check the specific safety features available in the trim level you're considering.
The 2014 Nissan Ad Van is also among the cheap cars in Zimbabwe that offer reliable driving. Designed primarily for urban driving and small businesses, this compact van has earned a reputation for its reliability, fuel efficiency, and versatile cargo space.
The 2014 Nissan Ad Van exhibits a compact and functional design ideal for city life. Additionally, clean lines, a compact footprint, and a tall roof define its exterior, maximizing interior cargo space. Additionally, the van's small size and tight turning radius enhance its suitability for navigating crowded city streets and fitting into tight parking spaces seamlessly.
Inside the Ad Van, you'll discover a cabin that's surprisingly roomy and orderly. The inside is logically designed to offer plenty of space for the driver and passengers despite the vehicle's small outward dimensions.
Engine Performance and Fuel Efficiency
The 2014 Nissan Ad Van typically comes equipped with a small but efficient engine that balances power and fuel economy. While it may not be the most powerful engine in its class, it excels in delivering excellent fuel efficiency, which is a significant advantage for those looking to reduce their operating costs. The engine's reliability and low maintenance requirements make it a practical choice for daily use.
The Ad Van's agile handling and exceptional mobility are two of its most notable qualities. Because of the compact dimensions and sensitive driving, it is simple to maneuver through crowded city traffic and negotiate tight curves with ease. This agility is a key selling point for businesses that require frequent deliveries or pickups in urban environments. 
Features and Technology
Despite putting an emphasis on utility and practicality, the Nissan Ad Van nonetheless provides a variety of amenities and technological choices to improve the driving experience. Depending on the trim level, you could discover features like:
1. Air conditioning
2. Power windows and mirrors
3. Keyless entry
4. AM/FM radio with CD player
5. Bluetooth connectivity (varies by trim)
These features add to the comfort and convenience of the vehicle, making it a well-rounded choice.
Conclusion
In conclusion, the SBT Japan has several fantastic options for those seeking quality cars under $1500. Remember to conduct diligent research, inspect any potential purchases, and consider the long-term costs. By doing so, you can confidently drive away with a budget-friendly car that meets your expectations.