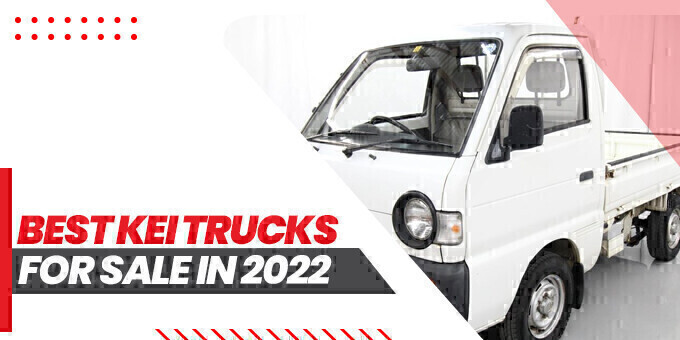 If you're looking for a perfect utility vehicle, we believe that the Japanese Kei trucks for sale will be perfect for you. These mini trucks are go-everywhere type, which offers durability and fun. Also, the best Kei trucks are easy to maintain.
The best part about the Kei trucks for sale is that they are highly affordable. You can easily find a good one in the range of $800 to $5000. Moreover, these are easy to handle and safe to drive. These mini trucks are way better to handle the daily errands. Also, these are great for multiple purposes. You can also get the body and structure modified.
Here you can find some of the best Kei trucks for sale to meet your needs and expectations. We've covered its benefits and features to help you decide if it's worth investing in or not.
8 Best Kei Trucks for Sale in 2022
It has become increasingly common to import Kei trucks for sale from Japan these days. There are many options available for buying the best Kei trucks. All you've to do is find the right one that meets your needs and budget.
You'll have to search the Kei trucks for sale according to their category and functionality. For instance, some are good for contractors, while some are best for landscapers. Also, if you need to deliver goods, you'll have to find a mini truck accordingly. Some also have a spacious interior and dump bed that easily attracts buyers.
All the Kei trucks for sale are available with a wide price margin. So, it's easier to choose. However, the experts recommend that it's better to import vehicles rather than buy from the local ones. Through this, there are better chances of saving money.
Here is a list of 8 best Kei trucks for sale, along with their features, specs, and benefits:
1.    Honda Acty
Since the beginning, Honda Motors has never failed to impress. It has introduced a range of competitive and durable vehicles that quickly grab attention worldwide. Honda Acty is one of the Kei trucks for sale.
You'll find it a practical, reliable, and affordable truck with impressive and robust features. The 4-wheel drive is best for handling utility work.
2.    Suzuki Carry
Suzuki Carry is one of the most preferred Kei trucks for sale. It's an active light passenger car with 4 doors and a hatchback. These are environmentally friendly with a reduced level of harmful exhaust emissions.
Also, it offers excellent fuel efficiency along with wide-rimmed tires. The model is now out of production. But, you can easily find used Kei trucks from reputable dealers. It's also an economic model that can be driven for miles without trouble.
3.    Subaru Sambar
When choosing Kei trucks for sale, you'll come across Subaru Sambar. It belongs to the first generation of vehicles that achieved immense fame and success. It is a perfect little pickup truck that can be used as a commercial vehicle. It's functional, sleek, and affordable.
The Kei truck for sale provides ample space for transporting goods. We are sure you'll love the basic interior that makes it a decent vehicle. The model has recorded excellent fuel efficiency and performance regardless of what you intend to carry around.
4.    Mitsubishi Minicab
Mitsubishi has produced some of the most famous SUVs and trucks for years. Also, the brand has consistently performed well over the decades. It's also rated well on the reliability index. The minicab is a truck that offers a three-cylinder engine and 4-wheel drive.
When looking for the best Kei trucks, you'll find this one on the list. It's an affordable vehicle that offers some remarkable benefits. The best part is that it's one of the easy-to-maintain vehicles that doesn't demand much attention and maintenance. All you have to make sure is that all the mechanical work is well-managed.
5.    Mazda Scrum
The Kei truck was first introduced in 1989 as a rebadged version of Suzuki Carry. You can get both a two-wheel drive and a four-wheel-drive option. It offers five-speed manual transmission as well as a four-speed automatic transmission.
The demand for used Kei trucks is increasing. So, if you're looking for a reliable and durable one, you can opt for Mazda Scrum. The Kei truck is manufactured according to high-quality standards. Therefore, it has easily grabbed attention worldwide.
6.    Isuzu Mini Truck
The Isuzu mini truck series includes some of the most demanded Kei trucks for sale. The automaker has brought changes in the vehicles from time to time to enhance their functionality and improve their performance. It's a versatile mini-truck that allows for transporting people and goods.
You can quickly load and unload things by folding the seats at the back. Its impressive performance and a five-speed manual transmission are to look forward to. The mini trucks ensure smooth drives as you don't need to worry about getting stuck in mud or the skyrocketing fuel prices.
7.    Suzuki Jimny
Jimny is another Kei truck offered by Suzuki that offers some fantastic on-road and off-road experiences. It's a two-seater that ensures high performance and functionality. Also, you'll be impressed by the aggressive looks and comfortable interior.
You can contact any reputable dealer to import the best Kei trucks. The eco-friendly vehicle meets government regulations. So, you don't have to worry about it. The model is energy efficient and emits less carbon while complying with the standards.
8.    Nissan Pao
When looking for the best Kei trucks for sale, you'll find Nissan Pao leading the list. One of the most selling used Kei trucks includes exposed hinges and a narrow steering wheel. Overall, the Nissan Pao has a huge carrying capacity and can be conveniently used for different purposes. It's durable and reliable.
When driving this truck, you'll experience the 70's look with a dashboard clock and oversized speedometer. Although the truck lacks some safety features like airbags and insulation, it's spacious and suitable for off-road experience.
Final Thoughts
The bottom line is that when searching for Kei trucks for sale, it is essential to consider your needs and demands. You'll find a lot of options! Considering its model, engine, interior and exterior, body type, and functionality, you must search for the best one. Buy one according to your usage.
By choosing any of the best Kei trucks for sale listed above, you can achieve what you want. There's no need to think much as these mini trucks offer the best they can. These are not only durable and reliable but offer the best features too.
Even the used Kei cars for sale come with outstanding quality and can help you carry heavy loads. These also survive in harsh road conditions and challenging weather.