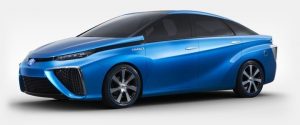 These days we talk about electric cars allot and they are useful and practical.
Today we will show you the car that runs on Water component (hydrogen).
YES IT'S TRUE!!!
 This amazing technology has recently showed by very prestigious and reliable name in automobile industry "TOYOTA". Toyota gave us glimpse of this technology at Geneva motor show and give details about this amazing car called Toyota FCV.
The core concept about this toyota car to get cleaner environment and the inspiration is water because on earth we have more than 75% water.
It excellent piece of technology will be made by the manufacturer in 2015 for masses and we are really excited to embrace this. We hope you are as well.
Enjoy the Video!