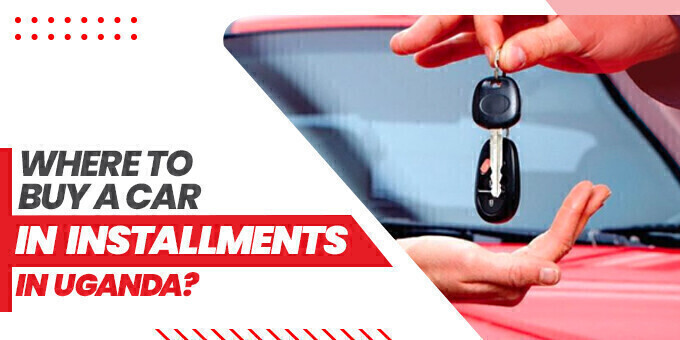 Car ownership in Uganda is within reach due to the abundance of auto financing companies in the country. As a result, conventional lenders like banks no longer demand collateral or security in order to lend money to those who want to buy an automobile, as they formerly did.
Where to buy a car in installment in Uganda, websites that can help you acquire a car, and mistakes to avoid while leasing a vehicle are all covered by this blog.
It is possible to get an installment car for sale in Uganda, where there are several loan providers eagerly awaiting your arrival. In order to get a Probox automobile loan, etc., there is no need for security at any time. A national ID card, a valid driver's license, and evidence that you will be able to pay back the loan are all necessary.
Where To Buy Car For Sale In Uganda In Installment
There are a number of used car dealerships or vehicle bonded warehouses that offer the cars in installments you are looking for. Once you have found a vehicle you want, you may talk to any of them about the details of the deal.
Any used automobile dealer might be a safe bet if you take certain precautions beforehand. Choose a vehicle dealership that satisfies a set of criteria. The dealership must be well-known and have a physical location where customers may visit it. When you visit a vehicle dealership, you want the salespeople to treat you with respect and professionally as they show you, several models with features that match your preferences.
Choose a vehicle that is within your price range and will be easy to maintain or operate (fuel-wise). An expert in the field can assist you in determining the mechanical condition of the vehicle. You need a money-back guarantee if you decide to deposit money for an automobile auctioned off in another country. Stagger the payments and work with a reliable bank to get the money for purchasing cars for sale in Uganda.
If you opt to work directly with the auto dealer, you should have a lawyer draught a contract outlining the conditions of the transaction.
Put some security in place for your deposit if you are not going to take possession of the automobile straight away. Consult an attorney to ensure the transaction is legally binding.
Websites To Buy Your Car In Installment
So, here are a few online sites where you may be able to get your hands on a car.
Checki.co.ug
Car classifieds site check.co.ug is a subsidiary of One Africa Media, an online corporation that owns and manages market websites in numerous African nations. You cannot buy a vehicle directly from the website. It is more like a shared marketplace that links automobile vendors and buyers rather than a marketplace of its own. Japanese automobile dealerships and importers in Uganda are included on this website, which claims to be the best in the business.
There are a wide variety of automobiles, both new and secondhand, to pick from on the website. Additionally, it enables you to pick a pricing range and automobile model. Alerts may be sent through email or SMS to notify you of new automobiles that catch your eye. As a web and mobile app, Checki may be used at any time.
Enhance-auto.jp
Another automobile dealer, Enhance-auto.jp, has vehicles ranging in price from $1,000 to more than $3,000. Cars like the Raum, Toyota Premio, and Ipsum are among the vehicles available on the website. Once your money has been verified in full, the business promises delivery to Mombasa in 30 or 45 days. However, unlike Be forward, they do not distribute to Uganda; hence a third-party provider is required.
Beforward.jp
It is a real auto dealership, not a virtual one. The website allows you to search through their extensive inventory of automobiles in Japan, choose a delivery location, and get an estimate on the cost of your order. Buying a vehicle from an internet vendor may be easier because of the local auto bond in Kireka Kampala, but it is not required.
After the ship leaves Japan, Beforward.jp claims a delivery period of six weeks. Among the services they provide are tax advice, vehicle clearing, vehicle registration with URA, and insurance application for your vehicle. It sounds like you are dealing with a stress-free vehicle salesman here!
Cars.co.ug
Like Checki.co.ug, Cars.co.ug is an automobile classifieds website. They do not sell automobiles directly; instead, they act as middlemen, putting buyers and sellers together through an online marketplace. The website claims to have more than 1414 automobiles for sale, most used cars from 27 automotive dealers around Uganda.
The website is well-designed, loads quickly, and is optimized for smartphones and tablets to their credit.
Auto-rec.jp
Auto-rec.jp is a Japanese company that delivers pre-owned vehicles to Uganda. You may immediately order the automobile from the website with an inquiry form or a proforma invoice. TT payment and shipping to Mombasa are completed when you agree to the terms. After that, you will have to carry it to Uganda independently. Despite its archaic design, you never know where you will find your ideal car on this site.
Mistakes to steer clear of while buying a car in Installment
You cannot purchase a vehicle without taking it out for an actual spin. Do a test drive before you buy to get the most accurate picture of how a car will perform on the road. It is vital that you allow sufficient time, at least half an hour, for a comprehensive test drive and walk-around of any car you are considering.
The state of a pre-owned vehicle is of paramount importance when making a purchase. Have a shop that regularly does diagnostics inspect the car before you purchase it secondhand. Cars that have been in big accidents or have hidden but expensive problems might be identified by an experienced technician.
Make sure you have a written report outlining the condition of the car, identifying any issues and how much it will cost to fix them. You might bring up these findings during discussions with the vendor to get a better deal.