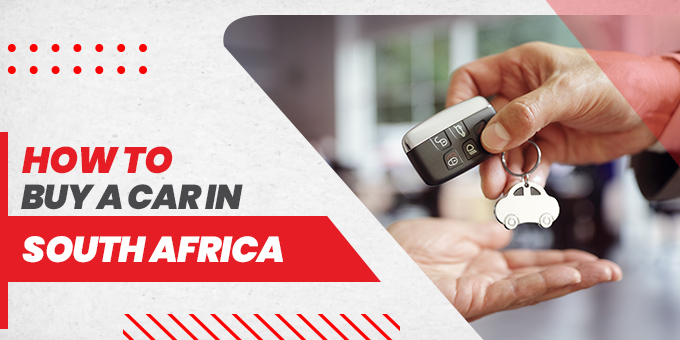 Do you intend to buy a car in South Africa? The decision to purchase a car is significant, and to make the best decision, it is crucial to be knowledgeable about the procedure. We'll walk you through the procedures and things to think about when buying a car in South Africa in this in-depth guide. Whether you're a first-time buyer or looking to upgrade your current vehicle, this article will provide you with valuable insights and tips. Let's find out how to buy a car in South Africa!
Researching the Market
Conducting comprehensive market research is essential before starting your car-buying process. Familiarize yourself with the local automotive market in South Africa to gain an understanding of the available options, pricing, and trends. Visit reputable websites, read reviews, and compare different car models to identify the ones that suit your needs and budget. Check our website to get the best deal on used cars for sale in South Africa.
Establishing a Budget
Setting a budget is a fundamental step when buying a car in South Africa. Determine how much you can afford to spend on the purchase, considering not only the upfront cost but also ongoing expenses such as insurance, fuel, maintenance, and financing, if applicable. You may focus on cars within your price range and reduce your choices by setting a budget.
Financing Options
If you require financing to purchase a car, it's essential to explore the various financing options available in South Africa. Banks, credit unions, and car dealerships often provide financing services.
Examine interest rates, loan conditions, and repayment schedules to determine which choice is best for your financial circumstances. Remember to calculate the total cost of the loan, including interest, to make an informed decision.
Pre-owned or New Car?
One of the decisions you'll face as part of the process of buying a car in South Africa is deciding whether to buy a pre-owned or new car. Each option has its pros and cons, so consider your preferences and circumstances. Pre-owned cars generally have a lower upfront cost but may require more maintenance.
On the other hand, new cars offer the latest features, warranties, and peace of mind, but they come at a higher price. Assess your priorities and make a choice that aligns with your needs and budget.
Finding a Reliable Dealer
To guarantee a straightforward and satisfying vehicle-buying experience, it is essential to select a reputed and trustworthy car dealer. Look for car lots with a good track record, rave recommendations from previous clients, and a large inventory.
A reliable dealer will provide transparent information, assist you in decision-making, and guide you through the necessary paperwork. Don't be afraid to consult with friends, family, or internet forums for advice.
Test Drives and Vehicle Inspections
Once you've identified a few potential cars and dealerships, it's time to schedule test drives. You may evaluate the performance, comfort, and handling of the car by taking it for a test drive.
Pay attention to things like steering responsiveness, acceleration, braking, and general comfort. If you don't have much experience with auto repair, you might want to hire a qualified technician to properly check the automobile before you buy it. Their expertise can identify any hidden issues and save you from future expenses. Contact SBT Japan to get your hands on expert-inspected Japanese vehicles.
Negotiating the Price
When it comes to negotiating the price of a car, preparation is key. Find out the current market price of the vehicle you're considering, and be mindful of any hidden expenses like delivery, registration, or licensing fees.
Use this information as leverage during negotiations. Be confident but reasonable in your approach, and don't be afraid to walk away if the deal doesn't align with your budget or expectations.
Understanding the Paperwork
Buying a car involves a significant amount of paperwork, and it's important to understand the requirements for buying a car in South Africa. Make sure you complete each document accurately.
Furthermore, make sure your vehicle documents are complete. These can include the registration certification, service history, proof of ownership, and others. You must have a copy of each document for your record. Moreover, never hesitate to ask questions from your dealer if you don't understand anything.
Insurance and Licensing
Before driving your new car on South African roads, it's essential to arrange adequate insurance coverage and obtain the necessary licensing. South Africa requires all vehicles to have valid insurance, including third-party liability coverage.
Contact insurance providers to compare quotes, terms, and coverage options. Additionally, familiarize yourself with the requirements for driver's licenses and vehicle registration in your specific province.
After-Sales Service and Maintenance
Owning a car involves regular maintenance and occasional repairs. To ensure your car remains in optimal condition, establish a relationship with a reputable service center or authorized dealership.
Observe the suggested maintenance schedule provided by the manufacturer, and take immediate action for any problems. Regular maintenance can not only increase the lifespan of your car but also keep its worth high.
Requirements for Buying a Car in South Africa
If you are considering replacing your vehicle or buying a new one, you must know the requirements for buying a car in SBT South Africa. You can get a full driver's license at 18 if you are a resident. However, additionally, as an international citizen living in South Africa, you need a residency visa stamp for vehicle registration.
Furthermore, once you are sure about the car you are purchasing, be mindful of the financing and paperwork. Generally, you will be required to provide your South African ID or international passport, proof of address, and residency visa to complete the process of purchasing a vehicle.
It is quite a hassle-free process if you choose your vehicle from a reliable car dealer, as they will help you out with the car registration process, insurance as well and financing.
If you decide to purchase a foreign-registered vehicle, it will probably go through the import process. This will require you to arrange an Import Permit and a Letter of Authority from the South African Bureau of Standards.
Moreover, for customs clearance of import vehicles and vehicle registration, you will require some of the below-mentioned documents as well:
1. ID copy
2. Letter of Authorization
3. Commercial Invoice
4. Bill of Landing
5. Cancellation Certificate
You will receive the Bill of landing, Commercial invoice, and Cancellation certification from your dealer; however, the rest you will arrange yourself.
End Word
In summary, how to buy a car in South Africa isn't a very difficult process. By following the tips and processes detailed in this article, you can have a smooth experience. Remember to research the market, establish a budget, explore financing options, and choose between a pre-owned or new car. Contact to get the best deal on the Used Japanese cars for sale.
Finding a reliable dealer will further help you with the car import and registration process. A trustworthy dealer can also provide you with expert guidance and assist you in selecting the ideal vehicle, depending on your requirements and preferences.
Finally, keep in mind to carefully bargain the price, comprehend the documentation, and organize for insurance and license. To maintain your car in top shape, give after-sales servicing and maintenance a top priority.