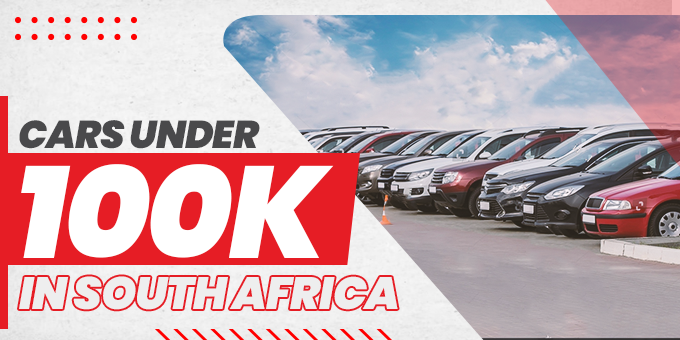 Are you in the market for a budget-friendly car in South Africa? Look no further! In this comprehensive guide, we'll explore the best options for purchasing a quality vehicle without breaking the bank.
Whether you're a student, a young professional, or simply aiming to save money, we've got you covered. Let's dive into the world of affordable cars under 100k that offer both value and reliability.
Exploring the Top Choices
If you're in the market for a compact car that offers efficiency, style, and a dash of fun, the Toyota Vitz F deserves your attention. The Toyota Vitz F boasts a modern and sleek design that effortlessly blends into both urban and suburban landscapes.
The Toyota Vitz F's interior has been meticulously designed to optimize space without compromising comfort. The ergonomic layout of controls, along with high-quality materials, contributes to an inviting cabin experience. The Vitz F impresses with enough legroom for both front and back passengers despite its small size.
 
The Toyota Vitz F  has a fuel-effective engine that balances performance and efficiency under the hood. While not designed for heart-pounding acceleration, the Vitz F delivers a smooth and comfortable ride, making it ideal for city commutes and light cruising.
Performance and Fuel-Efficiency
The entertainment system, which is outfitted with contemporary technology, provides smooth communication, including Bluetooth, USB ports, and smartphone integration. You may make use of amenities like a touchscreen display, navigation, and cutting-edge safety systems for increased peace of mind, depending on the trim level.
The Toyota Vitz F's outstanding fuel efficiency is one of its most notable features. With growing gasoline prices, this hatchback stands out as a practical choice for long and frequent road journeys. With each gasoline tank, you can travel farther thanks to its effective engine and aerodynamic design.
Furthermore, as you know, Toyota prioritizes safety, and the Vitz F is no exception. Adaptive cruise control, automated emergency braking, lane departure warning, and other technologies are available depending on the model level. These technologies enhance driver awareness and help prevent potential collisions, making the Vitz F a reliable choice for safety-conscious drivers. You can find the Toyota Vitz F easily on SBT South Africa.
Among other cars under 100k, another great option is the Toyota Vitz Smile Edition. It's a compact car that will bring a smile to your face. From the moment you lay eyes on the Toyota Vitz Smile Edition, its charm is evident in every detail.
The exterior boasts a playful yet sophisticated design, with subtle curves and character lines that give it a distinctive presence on the road. The front grille features a captivating smile-shaped design element, setting the tone for the cheerful personality of the car.
Step inside the Toyota Vitz Smile Edition, and you'll be greeted by an interior that lives up to its name. The cabin exudes a welcoming atmosphere with thoughtful design touches and high-quality materials. The seats provide comfort and support for drivers and passengers, making it a pleasant space for daily commutes and longer journeys.
With features including a touchscreen display, smartphone integration, and connectivity options, the infotainment system is simple to use and intuitive. Depending on the trim level, you may take advantage of extra luxuries like automatic temperature control and top-notch audio systems.
Performance and Fuel-Efficiency
The Toyota Vitz Smile Edition isn't just about looks – it offers a peppy and enjoyable driving experience as well. Due to its compact dimensions and responsive engine, this vehicle is nimble and simple to drive in constrained situations. It also has enough power for city driving.
Whether you're navigating city streets, zipping through traffic, or embarking on a weekend adventure, the Vitz Smile Edition's performance is sure to bring a smile to your face.
In addition to its cheerful disposition, the Toyota Vitz Smile Edition also excels in fuel efficiency. Its efficient engine and aerodynamic design contribute to impressive mileage, helping you save money on fuel costs while reducing your carbon footprint. This makes it a practical choice for eco-conscious drivers and those looking to maximize their budget.
Safety is a priority for Toyota, and the Vitz Smile Edition has a range of safety features to protect you and your passengers. Lane departure warning, automated emergency braking, and adaptive cruise control, among other amenities, are available depending on the model. These technologies enhance driver confidence and contribute to a safer driving experience.
Finding cars under 100k in South Africa isn't difficult. The Suzuki Swift is a popular subcompact car known for its combination of style, affordability, and practicality. The Suzuki Swift boasts a sleek and modern design that's both eye-catching and aerodynamic. Its compact size and sporty appearance make it a perfect fit for city driving, while the attention to detail in its design sets it apart from many other subcompact cars.
Inside the Swift, you'll find a well-thought-out cabin with comfortable seats and a user-friendly layout. The quality of materials is generally good, and the car offers an impressive amount of space considering its size. While it may not be the most spacious in its class, it provides ample room for both front and rear passengers.
Suzuki has equipped the Swift with a variety of modern features, even in its base model. Depending on the trim level, you can expect features like a touchscreen infotainment system, smartphone connectivity, air conditioning, and power windows. The controls are intuitive and easy to use, enhancing the overall driving experience.
The Suzuki Swift is known for its agile handling and nimble performance. It's fun to drive, especially in urban environments where its small size and responsive steering come into play. The available engines provide decent power, making the Swift a suitable choice for everyday commuting and even some highway driving.
Fuel Efficiency and Safety
One of the standout features of the Swift is its fuel efficiency. It's designed to be economical, making it a great option for those looking to save on fuel costs. The car's lightweight design and efficient engines contribute to impressive miles per gallon, which is a significant selling point.
Safety features in the Swift typically include anti-lock brakes, multiple airbags, stability control, and more. The car may also offer advanced safety options like adaptive cruise control and automatic emergency braking in higher trim levels. While it may not be a class leader in terms of safety technology, it provides essential features to help keep you safe on the road.
The Suzuki Swift is a well-rounded subcompact car that offers a stylish design, good fuel economy, and enjoyable driving dynamics. It's a practical choice for urban commuters, first-time car buyers, and those seeking a budget-friendly option. While it may not have the most extensive list of high-tech features, it compensates with its affordability and reliability. Find it on the SBT Japan website and talk to an agent to clarify all your concerns.
End Word
In conclusion, South Africa offers a range of affordable cars under 100k that cater to various preferences and requirements. Whether you prioritize compact size, fuel efficiency, or brand reliability, there's a vehicle out there for you.
As you embark on your car-buying journey, make sure to create a realistic budget, consider long-term costs, and prioritize factors like fuel efficiency and maintenance. With these steps in mind, you can easily find a budget-friendly car that doesn't compromise quality and functionality.