People gets a lot of tickets for over-speeding. But the matter goes out of control if you do not handle the situation well. Before telling you what to do when you are caught over speeding, it should be kept in mind that we do not encourage over speeding. Over speeding can cause life long damages to passengers and drivers.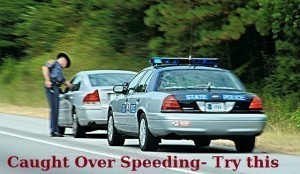 But if by-chance you get caught, the situation should be handled keeping psychology of cop in mind.
Clear Doubts

The policeman gets into confusion of something illegal happening especially when the glasses of car are tinted. So do not give him opportunity to get suspicious, simply open car windows to make sure that the inside is best visible to them. In case it is night make sure you turn on lights. Place your hands on wheel to confirm the fact that you are not carrying anything lethal.
Keep The Papers Ready And Talk Well

Make sure that your car papers are handy with you, as finding them out when the police officer is standing near your vehicle can be irritating for him. Give the cop, the opportunity to tell you how you went wrong and try to talk less to avoid the short temper-ness of person in uniform and you.
Remember its the job of the officer to charge you for being wrong, so politeness will help you in getting out of the situation without any further issue.