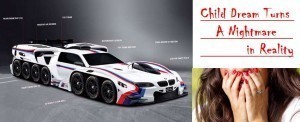 Children have natural tendency to think big and innovative. Understanding this child dream was converted to reality by huge investment to make the dream car convert real.
The car has four tires on each side with a long chassis body to support. The turbo is installed in front in an oval shape with another on roof. It has rear spoiler on the back with multiple lights everywhere to support.
We cannot comment of functionality. The car look aerodynamic failure as it is fully cluttered. It has turbo on roof as well while the purpose of turbo is to make airflow better in engine. So only if engine is being installed in roof the turbo could help.
The biggest failure is the large number of tires that will cause instant problems in functioning.
Road Grip Low
The road grip will be less, as a large number of tires will cause slipping on road probability maximization.
Ground Clearance
The ground clearance will become an issue, as the difference between tire bank and road will reduce leading to turning problem in long run.
Fuel Efficiency Minimized
As there are large number of tires so fuel efficiency will be at almost zero level. For running of the vehicle larger engine will be required and chances of engine being worn-out will be higher.
Hence we can say that the car will be the worst nightmare in reality.