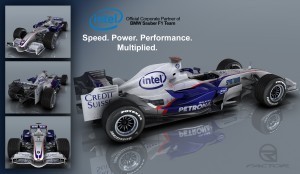 Formula 1 race, the most famous car track sports that showcases the best of the best drivers in the best of the best vehicles any elite company has to offer can be revolutionized with the latest piece of news hitting the stands. According to the certain resources there could be a possible return f BMW and Ford on the race track yet again.
The much hyped rumors of return of the giants to the famous F1 track were triggered by the previous F1 team owner GianCarlo Minardi hinting that the revolutionary new turbo V6 rules were created not solely by the current F1 supplier Ferrari, Renault and Mercedes. This proved to be a subtle piece of information stating that the old gunners might be thinking of returning to the track. It is presumed that BMW board of director will be meeting in May to discuss BMW's return to F1 as an engine supplier in 2015. It was stated that BMW made its presence felt in the winter testing and early races for the 2014 new rules. BMW which pulled out of the Sauber team in 2009 could be facing return with the rumors of Honda's comeback on the plate as well. BMW has rejected its entrance into the German Touring Cars due to which all signs point towards the famous F1 track.
Not only this but Racecar Engineering has reported alleged return of Ford to the game by providing Gene Haas's new team with the Ford branded Cosworth engines.