Daihatsu engineer, teams and company has unveiled their innovative strategy with 3D-printed car parts
Till date, the concept and perception about introducing the 3D printing in automobile's car appear nothing more than homebrew affairs. Now, it's the time to change and modify the former traditional philosophies.  One of the most prominent automakers will soon commence their functions on offering customized printed technical components widen the sector of vehicle personalization. Yes, it's Daihatsu who planned the strategy in the collaboration with 3D printing company Stratasys and Industrial designers.
Daihatsu opt to go integrate designers from Znug design that soon going to bring brilliant three-dimensional pattern to customers new body panel and charming Copen. The vehicle suppose to be a mini two-seat roadster-coupe with barter or swapped body panel, which could easily be modified in 3D-printed edition.  Previously, the traditional Copen failed to get high sales from the U.S market, now it's the challenge for Daihatsu to bring a dynamic change. Though, the chances are positive because 3D design and pattern suppose to be  more catchy, attractive and dazzling.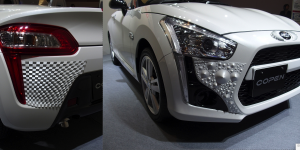 Daihatsu will going to offer wide platform for all kind of customization depending on the technological availability and efficient performance of the drive. The 3D parts are known as "Effect Skins" that embrace unique, innovative and distinctive design combinations. Some of the prominent amalgamation includes 10 organic patterns and 15 geometric blueprints.
The designs and drawings are not entirely locked down by the automobile manufacturer, however, customers have freedom and flexibility to modify the installed designs with their preferred 3D printings. The another technique to fulfill convenient customer specifications is utilizing the plastic body parts, though it would require few months to get developed. Osamu Fujishita, spokesman from Daihatsu brand office stated that these plastic parts will soon be available in may be couple of weeks to carry our further manufacturing procedure.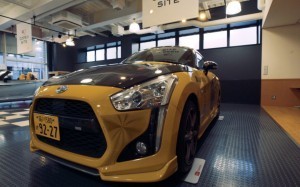 More likely, the parts will be accessible in the market during 2017 and premeditated to embellish the fenders, front and rear bumpers of Copen. Moreover, the panels are designed using Fortus production 3D printers mated with ASA thermoplastic. These elements resists both UV damage and knocks spoil or smash up. We assume that the final outcome will be exceptionally well like no other and surely beat Pep Boys for adhere chrome vents.