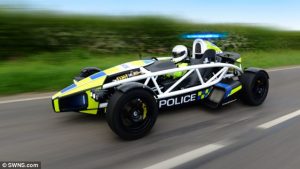 Where there may be no actual Sherlock Holmes to solve crimes in the shortest interval of time with his loyal sidekick John Watson, the British Force is taking their hands on the next thing – The World's Fastest Police Car. The vehicle that already holds the record for the fastest lap around the Top Gear track, the Ariel Atom is now officially the fastest police car.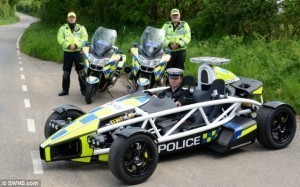 The beauty looks more like a Formula 1 race car rather than a police vehicle has the ability to go from 0 to 60 mph in under 2.5 seconds. The 38,000 pounds vehicle will be used by traffic officers to check speeding motorists and encourage them to slow down. The amazing vehicle is far above the league of Lamborghini Gallardo LP560-4 Polizia that is used by the Italian Police or the Audi R8 driven by the German Police and even the Ferrari FF used in Dubai. The Avon and Somerset Police has acquired the vehicle to promote its new campaign, The Safe Rider. The eye catching piece of work is aimed at dissuading bike riders from riding dangerously and getting involved in fatal accidents. In 2014, seven motor cyclists have already lost their lives in the area spiking a 30% increase from last year.
The vehicle weighs a mere 612 kg and has a top speed of 155 mph that it sure to leave you in a whirlwind.