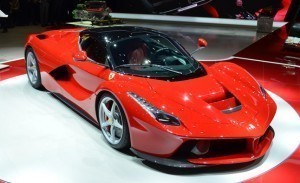 The Formula 1 cars are purpose built with the sportiness the basic reason of production. Understanding this Ferrari prototype of LaFerrari assembled in Italy brings in the best in class. There are limited models to come in market, as Ferrari philosophy of offering less than the customer demand has always created hype for customers.
Like any other luxury brand, customers of Ferrari consider themselves the privileged ones. Therefore the car to be produced will be 499, not 500. After all the customers should be proactive in purchasing this car of class.
The LaFerrari will be a complete hybrid bringing in latest technology at disposal of customer, with the best in class synchronized together. The cars opens as a dramatic wing with V-12 hybrid power train inside. Hence it is not just the ravishing look but also the strong performance that is ready to give customers a break. It is all red, ready to give the look of passion from paddling to engine.
It will bring in road grip followed by doors and lids that are state of art. There are orange cables to support this red bull. Look into the video to find out what this vehicle has for you.
Yay! It is the first drive video, shown below: