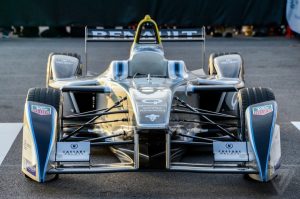 With the efforts of Tesla and it's Model S the imagine of electric cars has been revamped and taken a major turn. Debuting at the first ever Formula 1 for racing cars, thus named Formula E, the first ever electric race car will be present at the event. The marvel named Spark-Renault SRT_01E is produced in conjunction with the major players like McLaren, Dallara and Williams.
The car does not compromise the integrity of a racing vehicle in any way. Maxing out at approximately 140 mph and accelerating from 0-62 mph in a span of a mere 3 seconds, makes ita testament of progress and revolution in the electric cars category. One of the perks and additional element that this car provides according to former F1 driver Lucas di Grassi, is its underwhelming sound emissions that provide the driver with added concentration as compare to the high pitch buzzing sound from traditional race cars. The car will only be added with artificial sounds at the driving down pit row for safety reasons.
The car is a different element in its own. Due to the highly precise torque, the application of throttle will have to be extremely sensitive in order to keep it under control. The Spark-Renault is the very first and only Formula E car in the market at the moment whereas 10 teams have stepped up for inaugurating the event in 2014-2015 with their own electric cars for the competition.