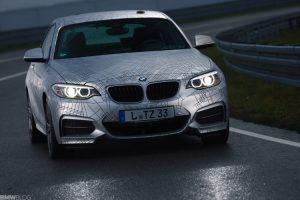 The technology for self driving car has made a prominent impact on the automotive industry with numerous companies investing their time, money and efforts to incorporated it in their vehicles. However to let your car take complete control at the highest of accelerations is an area not treaded by many. BMW has recently introduced the first ever Self Drifting automobile, the M235i, without any input from the driver.
The autonomous driving vehicle not only accelerate ad controls at high speed but drifts efficiently highlighting its disposition as a probable self driving race car. It is highly intelligent to change lanes as well as overtake slow vehicles and pull back when the maneuver is complete all without any effort from the driver himself. For visual detection and safety, the car is fitted with Collision Warning System, Pedestrian Warning System, Active Cruise Control with stop and go function along with Lane Departure and traffic sign recognition system.
The BMW M235i Active Assist provides the driver with sheer pleasure and a relaxing experience. BMW has made sure that the car revolutionizes the race car industry in a way that the technology's implementation not only becomes a priority but a necessity in the world of car racing sports.