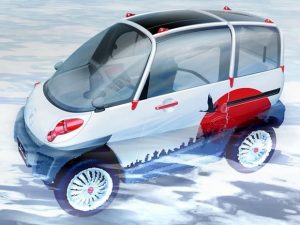 With the rise in major environmental disasters like floods, tsunamis, hurricanes and severe weather pattern changes, there are numerous occurrences where are people are stranded at places which is water logged and lack in emergency arrangements like food. In this situation what would be an ideal possession for a person? Yes its true, a floating vehicle to keep you safe!
A reputed Japanese Automobile Company is presently aiming to create a 460 kilogram vehicle which will an all electric floating vehicle in low lying flood prone regions. The car initially aimed at facilitating the Asian market is now being considered for numerous aread upon the recommendation of UN's International Panel on Climatic Change. The frequency of heavy rains and the growing intensity of floods is making North America and Europe a potential market for such a vehicle. The concept of the floating vehicle is backed by the water jet generator that propels through water covered roads and water ravaged territories.
Where this concept is highly useful and practical due to the growing climatic changes in the world being experienced at the moment, there is still a lot of research and development in the electric car and water supporting categories only after which this concept can be made a reality which truthfully everyone is looking out for.