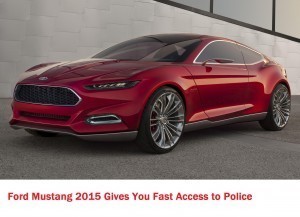 The Ford Mustang is expected to bring in an innovative batch of features that will make a mini 911. It will assist you and police in a way that life threats could be reduced to minimal. The smart technology will provide a great degree of information to the authority in case of accident. The phone call is made with Bluetooth connected phone, with automatic message in the beginning.
The first message will be a blurb from Ford that is recorded before hand. The further enhancements will give details to the smart system. This will aid in learning about maximum change in velocity, crash impact and the fact that seat belts are employed or not.
After the blurb has been communicated, the voice line will automatically open, so the occupants can talk directly with operator by hand free functionality. The technology employed for broadcasting direct message in Sync that save times and make message efficient for operator. Hence even in panic, the right message is communicated perfectly.
It is a 2015 Ford Mustang and is expected to come next year, though its advantages have created a lot of buzz in drivers and humanitarians alike. This will act as a fresh year of support in busy chaotic life.
Go 2015 Ford Mustang! The fast access to police in case of accident.