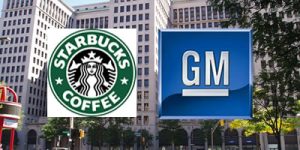 General Motors' ignition switch recall debacle just won't go away. With over a million recalled but unfixed vehicles still on the road and pressure on GM to fix the cars as quickly as possible, the company has come up with an interesting proposition.
Since the risk of death hasn't convinced those million plus car owners to visit their dealership, GM hopes $25 worth of coffee will. The recall, which was announced in February, included 2.6 million cars and involves a faulty ignition switch that could shift into the accessory position while driving, shutting down important functions like brakes, steering and airbags while the car is running. At least 30 people have been killed because of this defect, but that risk apparently is not enough for owners to take action and have the free repair made.
Owners who bring their car in for repair before January 1 will receive a $25 gift card to Amazon, AMC, Applebee's, Bass Pro Shops, Red Robin, Starbucks or Wal-Mart. Since there are still over a million unfixed cars on the road, it's understandable that affected cars are quickly losing resale value. The problem is that GM says it is not responsible since the cars were produced before its 2009 bankruptcy.
GM has said it is setting aside an amount of around $600 million to compensate people who were injured or have lost loved ones in those vehicles, including pre-bankruptcy models that inadvertently lost power. GM says it is not obligated, however, to pay economic damages to people who claim those same pre-bankruptcy cars are worth less because of the flaw.
There's not much GM can do to increase the value of used cars, especially on the private party market. What it can, and should, do is offer a higher trade-in value to owners of these cars so they can upgrade at a fair price. Seemingly, General Motors is truly doing all it can to fix the recalled cars, so let's have fingers crossed for future actions and decisions by the giant automobile entity!