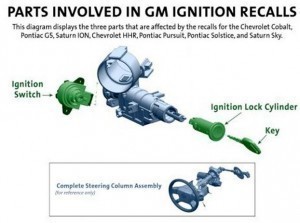 2014 – A Bad Omen for General Motors
The year 2014 has not proven favorable for the automobile giant General Motors amidst the recall battle, court hearings, inconclusive test drives and now above all a $1.3 billion charge relating to ignition fix and part replacements of thousands of cars whose number can easily peak into millions due to the constant flow in faulty vehicles flooding the automobile market.
Mountain of Charges Ahead
General Motors in their latest statement provided the world with yet another reputation diminishing news that the company in only their first quarter faces a $1.3 billion charge related to their ignition switch recalls that resulted in instant stoppage of the vehicle at any moment causing 13 fatalities so far. The amount of charge till March 31st, 2014 increased from $750 million to $1.3 billion costing the company 70% more in the span of month. The charges are relating to replacement of ignition switches of 2.6 million Chevrolet Cobalts, Saturn lons and other compact cars along with the installation of new ignition lock cylinders. Along with the piling pressure on GM, the company also faces a risk of negative rating action if the tensions realting to the recall fiasco continue to rise. The recall can hurt GM in its widest chunk of the US market thus effecting profits resulting in ultimate deterioration.
GM Reaction
The company remains steady and firm in their position by stating their utmost priority of helping their customers no matter the cost or the time. The decision for replacing cylinder and providing new cut keys and ignition locks are steps taken to ensure that GM does not loose the huge US market it drives its revenues from.