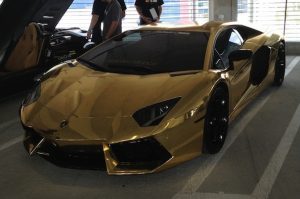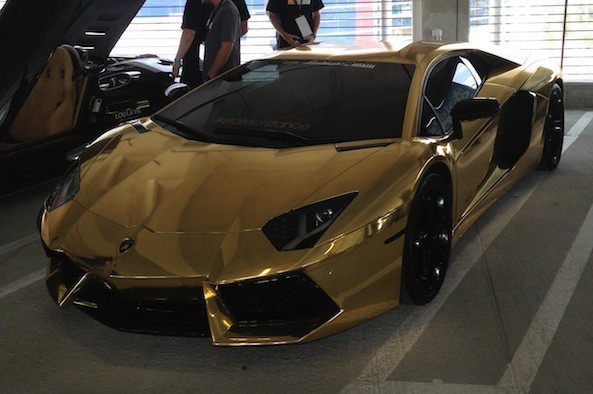 Clothing might be the usual thing, but this year it is a car that's stealing the spotlight during Paris Fashion Week. As far as supercars go this might be the one to beat. Labeled as quite possibly the most expensive car in the world, the gold Lamborghini Aventador has been spotted cruising the streets of Paris.
Essentially the gold is authentic and worth around $6 million, making Gold Lamborghini Aventador one of the most expensive cars on earth. The 692 horsepower Aventador has a 6.5 liter V12 engine, enabling it to hit 62 mph in less than 3 seconds, and can reach speeds up to 217 miles per hour.
Over the past month, it has been seen around the city's most luxurious destinations, such as the Plaza Athenee hotel on Avenue Montaigne and Fashion Week hot spots. Some people have doubts of a glitzy material as there is no proof yet that the vehicle is really wrapped completely in real gold and meets the claim that even the car's brake calipers have gold colored detailing. Regardless, with its Saudi Arabian license plates, one thing is certain this Lamborghini is a tangible symbol of oil money and Arabian opulence.
In 2012, Kanye West and Kim Kardashian rolled up to a Halloween party at Fontainebleau Miami Beach in gold Lamborghini Aventador. This August, Saudi Arabian owned $324,000 gold plated Ferrari was spotted around London. And this September, an Aston Martin gold plated DB5 model sold for $90,000. The miniature car which was one third the size of a standard car was created to commemorate the 50th anniversary of the film Gold finger.
In Dubai last year, a prototype for a Lamborghini Aventador model, which is predicted to be the world's most expensive model car, turned heads with its gold and gem adorned exterior. At one eighth the size of a standard sports car, it has a projected value of $7,500,000, due to the cost of materials and craftsmanship in play. These flashy gold supercars may just be the next trend. Paris Fashion Week goers who are dedicated to staying up to date with the latest styles may want to pay attention to the roadway just as much as the runway this year!