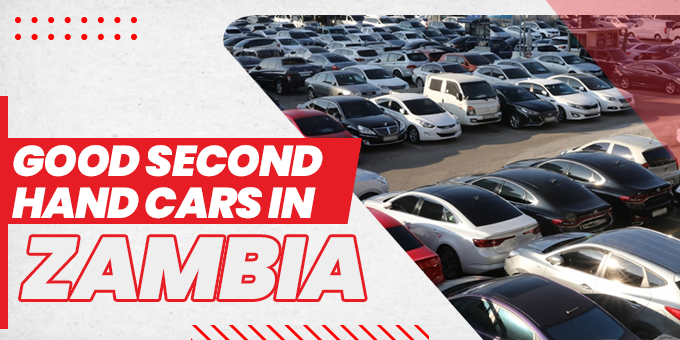 Are you in the market for reliable and affordable second hand cars for sale in Zambia? Finding the ideal second hand automobile may be challenging, whether you're a novice buyer or an experienced driver. To assist you in making an educated choice, we'll walk you through the top 5 good second hand cars in Zambia in our detailed guide. From compact city cars to rugged SUVs, there's something for everyone. Let's dive in!
The Toyota Corolla has long been a global favorite, known for its dependability and fuel efficiency. In Zambia, this compact sedan is a popular choice for budget-conscious buyers.
Why it's a Great Option:
Fuel Efficiency: The Corolla's legendary fuel efficiency ensures fewer trips to the gas station, saving you money in the long run.
Reliability: You can rely on your Corolla for many years because of Toyota's reputation for dependability.
Resale Value: When it's time to upgrade, you'll find that Corollas hold their value well, making them a smart investment.
Where to Find Used Toyota Corollas in Zambia:
You can easily find used Toyota Corolla cars for sale in Zambia through reputable dealerships and online classifieds. Before making a purchase, make sure to get the car inspected by a reliable professional.
If you need a versatile and spacious vehicle for your family or daily commute, the Honda CRV is an excellent choice.
Why it's a Great Option:
SUV Versatility: The CRV offers ample cargo space and comfortable seating, making it perfect for both city driving and outdoor adventures.
Fuel Efficiency: Despite being an SUV, the CRV has a reasonable fuel economy that can help you cut your petrol costs.
Strong Resale Value: Hondas are known for retaining their value, which is a significant advantage when you decide to sell or trade in your CRV.
Where to Find Used Honda CRVs in Zambia:
Browse local dealerships and online listings for used Honda CRVs. Verify the car's service record and have a reliable mechanic look it over.
For those who need a rugged vehicle capable of handling tough terrain and heavy loads, the Ford Ranger is a popular choice in Zambia.
Why it's a Great Option:
Off-Road Capability: The Ranger's robust design and powerful engine make it suitable for offroad adventures and work-related tasks.
Towing Capacity: It has a strong towing capability that makes it perfect for pulling trailers or heavy loads.
Safety Features: Many Ford Ranger models are outfitted with modern safety measures, giving drivers peace of mind.
Where to Find Used Ford Rangers in Zambia:
You can find used Ford Rangers at dealerships and online platforms. Ensure the vehicle's maintenance history is well documented and have it thoroughly inspected before purchase.
If you're looking for an affordable compact car that's easy to maneuver through city streets, the Nissan Tiida could be your perfect match.
Why it's a Great Option:
Compact Size: The Tiida's small size makes it a breeze to navigate crowded streets and find parking in urban areas.
Affordable Maintenance: Nissan's reputation for affordable parts and servicing makes the Tiida a cost-effective choice.
Comfortable Interior: The Tiida's interior is surprisingly spacious and comfy, considering its small dimensions.
Where to Find Used Nissan Tiidas in Zambia:
You'll find used Nissan Tiidas available at various dealerships and online listings. Always check for service records and consider a pre-purchase inspection.
For those who appreciate a sporty and fun to drive hatchback, the Volkswagen Golf has been a favorite for generations.
Why it's a Great Option:
Engaging Driving Experience: The Golf's precise handling and turbocharged engines provide an enjoyable driving experience.
Quality Interior: Volkswagen is known for its well-crafted interiors, offering a premium feel inside the Golf.
Safety Features: Many Golf models come equipped with advanced safety technology, enhancing your onroad security.
Where to Find Used Volkswagen Golfs in Zambia:
Look for used Volkswagen Golfs at certified dealerships and reputable online platforms. Pay attention to the vehicle's maintenance history and consider a professional inspection.
Buy any of the above used cars in Zambia through SBT Japan, which will show you the options as per your budget and needs.
Additional Tips for Buying Second hand Cars in Zambia
Now that you've explored the top good second hand cars in Zambia, it's crucial to understand the broader aspects of purchasing a used vehicle. Here are some additional tips and insights to help you make a well-informed decision:
1. Budget Wisely
Before you start browsing for second-hand cars for sale, establish a budget. In addition to the purchase price, take into account recurring expenses like insurance, gasoline, maintenance, and licensing fees. You may prevent overpaying and ensure you can afford your selected automobile by sticking to your budget.
2. Do Your Research
When it comes to purchasing a used automobile, information is power. Do some research on the precise brand and model you're considering, paying attention to recurring problems, recalls, and owner testimonials. You may use this information to spot potential warning signs and make a better-educated decision.
3. Vehicle History Report
Ask for a vehicle history report for any automobile you're considering buying. This report can show important details, including accidents, title problems, and inconsistencies with the mileage. It's a valuable tool for assessing the car's condition and verifying its history.
4. Inspection by a Mechanic
It's important to have a used automobile inspected by a certified mechanic before purchasing, regardless of how good it appears. A professional inspection can uncover hidden issues that might not be immediately apparent, potentially saving you from costly repairs. Check SBT Zambia for more deals on used cars.
5. Negotiate the Price
Don't be afraid to negotiate the price with the seller. Research comparable listings and use this information to justify your offer. Be prepared to walk away if the seller isn't willing to meet your terms.
6. Check the Paperwork
Before finalizing the deal, make sure all required paperwork is in order. This contains the car's title, service logs, and warranty information. Make sure there are no existing liens on the vehicle and that the seller has a valid title.
7. Test Drive
Go for a long test drive in the vehicle. Its handling, braking, and acceleration should all be observed. Check sure all systems and functions are functioning properly and listen for any strange noises. Your chance to evaluate the car's general state and suitability for driving is during the test drive.  To get the best price on used cars for sale in Japan, Contact us Now!
8. Consider Ownership Costs
Remember that the purchase price is just one part of the equation. Factor in the ongoing costs of owning the vehicle, such as fuel efficiency, maintenance, and potential repairs. A car that's cheap to buy but expensive to maintain may not be the best long-term investment.
Final Thoughts
Purchasing a second hand car in Zambia can be a rewarding experience when done right. By considering your budget, conducting thorough research, and following these essential tips, you can confidently navigate the market and find a reliable vehicle that suits your needs.
Remember that finding good second hand vehicles for sale in Zambia is not just about the make and model; it's also about the condition and history of the vehicle. With the right precautions and knowledge, you can make a smart and satisfying investment in a used car that will serve you well for years.
We really hope that this guide serves as an invaluable tool for you while you shop for a car. That is why you should not be afraid to ask reliable dealerships, industry professionals, or other automobile enthusiasts for advice if you have any more queries or require assistance. Happy car shopping, and safe travels on Zambia's roads!