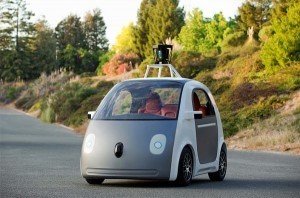 Internet giant Google is no longer effective on cars from other manufacturers back, but has now launched its first, self-developed, self-propelled car. What rather acts as a bubble car on wheels is actually a high-tech product, which is plastered with the latest technology. Even though this vehicle has not even a steering wheel and neither gas nor brake pedal. It certainly has a lot to offer for the people who engage in the new technologies. Do you want to know how should it work exactly?
Google CEO Sergey Brin introduced the first self-propelled car of the Group on the code Recode Conference in Palos Verdes California. In this vehicle, which is more reminiscent of Chinese plastic toys for children, there is neither a wheel nor a gas or brake pedal. This shortcoming wants the developer to offset its cutting-edge sensors and software, so you then can maneuver safely through traffic so without having to lend a hand.
The Google car drives so far but only with a maximum of 25 mph (40 km / h) in order to have more time to react to obstacles. The valid in most urban areas of the United States speed limit of 35 mph is it so therefore not exceed ever. Thanks to many sensors the car can observe its surroundings up to 180 m in advance. The compact design of the car ensures that the electronics a 360-degree view with no blind spots. The engineers installed a rearview mirror only because it is required by law in California.