Both critics and customers have subsequently misbegotten and ignored the edition of Honda CR-Z. Since years, the national and International sales have been dropped. Even after the half-hearted attempts, diversification and kick-start struggle it fails to grab the customer's attention. It's true that CR-Z visibly lacked to attract the industry and the potential buyers. The manufacturing and marketing has already discontinued in Australian and European markets. Now, Japanese has also witnessed the imminent failure of CR-Z models in their respective sector.
The inexplicable edition will make the last bastions and support sales for CR-Z in the US market. Honda strives to make the final effort to build positive side of their model that could again create a strong position against the global competitors. The vehicle initially introduced with 1.5 L engine and electric motor that offer a combination of 130 hp and 140 lb-ft torque. Later on, the engines are improvised with technological advancement that mated with manual transmission trim.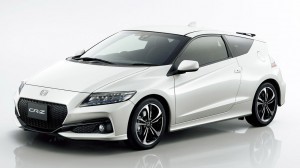 Honda also launched their collection mated with hybrid transmission in compliance to the environmental standards. Once again Honda fails to attract the customers and automotive industry that didn't blow the potential buyers. However, the models with continuously variable transmission (CVT) seems predictably less thrilled and ecstatic.
There have been multiple final versions and vehicles packages introduced in the wide Japanese industry. The Japan intake multiple cosmetic changes to only CR-Z final label such as innovative alloy wheels, badging and stylization. Additionally, the modifications also made in "Final Label" logo embroidered on the driver and front passenger seats. The equipment and accessories from lower trim to higher trims installed  within the extended range of CCR-Z lineup.
To some extent, these defined changes and modification made sense in the Japan market, where collectible special versions are extremely sought after. It seems quite doubtful that Honda automakers will bother anything more thrilling than a fire sale promotion within the United States. Though, many sources have inquired  the official management of the company let the industry know about the plans on CR-Z in North America. We have to wait patiently until the authentic report is out by Honda automakers.