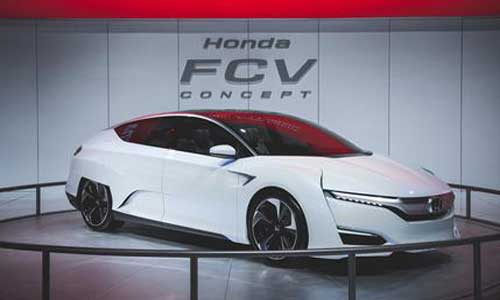 Officially, Honda has started leasing their Fuel Cell Vehicle (FCV), Clarity to serve the potential customers in Japan territories. By the end of 2016, the sedan will made available to the dealers of California. Once the world's top-class zero emission vehicle is accessible in the US, it going to be the great challenger for Toyota Mirai FCEV. The Clarity comes with an electric motor access with 221 pound-feet of torque and 174 horsepower. The sedan is engineered with enhanced efficiency of the power train, and a compact energy requirement to excel smooth and downy driving experience. Honda claimed the exceptional performance of Clarity in the Japan's JC08 test that the automobile have the capacity to travel up to the equivalent of 466 miles.
The installation of high-pressure hydrogen storage tank has increased the cruising range with around 30 per cent as compared to the former product range of FCV. The automakers anticipate the sedan to entertain an EPA-estimated driving distance of beyond 300 miles. The improvement in the cruising range is integrated to enhance the practicality of Clarity – fulfilling all the driving requirements including long-distanced trips. The automobile manufacture with splendid exterior design that features the blend of both elegance and dynamism. The Clarity offer a vibrant yet smooth driving feel loaded with high-output motor delivering maximum output of approximately 130kW.
The pricing of five passenger sedan in Japan will starts from $67,800 though, the retailer might consider it to place on the sale price equivalent to $60,000 and lease it for $500 per month. In some of the major categories and features Toyota Mirai is pretty similar to Honda Clarity involving an EPA range of 312 miles and leases for approximately $499. These two factor will going to challenge each other at high peaks in near future. During the press release Honda told that for the first year the lease sales of Clarity Fuel cell will mainly focus to local governmental bodies or to the businesses with whom Honda has been functioning to popularize FCVs.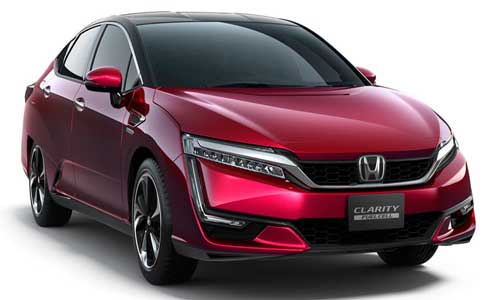 Meanwhile, Honda will gather the significant information related to in-market demand and usage of Clarity Fuel Cell. Additionally, Honda also takes the insight evaluation about external power device and gather the distinct perception and request from the potential or interested customers and other reliable establishments. After analyzing the prospective dimensions then Honda will take possible steps to initiate the sales to individual customers. The core purpose of Honda behind this sale is to make an efficient contribution towards the upcoming hydrogen energy society and to comprehend the joy of freedom. Freedom to bring sustainability and automotive mobility in the society where the people can enjoy life without harming the environment. Honda will persist to accomplish the new challenges in the region of hydrogen technologies.