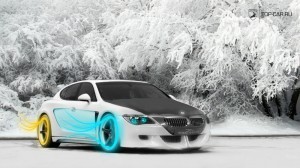 The days are getting shorter, the temperature drops. One or the other runs even the nose. And next weekend onwards, the summer time. There is no doubt; winter is just around the corner. It is time to make the car ready for the winter. This involves more than just a set of winter tires. For a responsible car owner also check the antifreeze, battery, lights and windshield wipers of its car.
Good Wiper And Suitable Lighting Provide The Necessary Insight
Especially in the upcoming darkness the good insight is needed where wipers play an important role. The professionals from TÜV Süd recommend the annual change of the wiper blades. To increase the life of the wiper, drivers should remember that windshield wipers are no ice scraper. Trying to shove a little ice with their help is usually not successful. But the rough surface of the ice destroyed the few hundredths of a millimeter wide wiping edge after a few wiping movements. Therefore, motorists should remove ice in the upcoming winter always complete. Just as leaves or pine needles that fall under the wiper. Also, they damage the wiper very quickly.
For optimal view includes the lighting. Actually a matter of course, but defective lamps require immediate replacement. Nevertheless, I have in recent days repeatedly encountered motorists with half-blind cars. Not to restrict the view from the inside, it is worth a control of the indoor air filter. It is to replace heavy soiling, otherwise passes less air and the windows fog faster.
Antifreeze, Battery, Lighting And The Rest Of The Winter Festival
Insufficient antifreeze can lead to significant problems. In the worst case, the engine damage is possible. Therefore, motorists should leave now in the workshop to check the antifreeze in the radiator system and refill the antifreeze in the windshield washer. For diesel vehicles, a check of the fuel filter is also useful.
Batteries are particularly strained during the cold season. The engine starts – also due to the viscous oil – much heavier. These are in the dark and cold season more electrical loads in operation. Therefore belongs to the optimal winterizing a check of the electrical power dispenser. And who does not want to stand in front of the closed car in summer, now door seals and locks treated with suitable rubber care products.