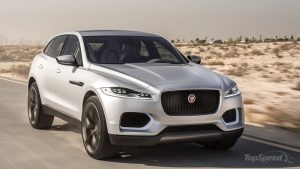 The crossover has gained greater popularity across globe, leaving all other car bodies behind. The fuel efficiency of sedan and the performance of SUV is a deadly combination that people are more focused on. Understanding the growing liking of crossover Jaguar is all set to launch a cross over utility. As according to the Vice President of the company this smaller crossover is expected to bring in greater cash flow and growth opportunity for the company. The vehicle will come to the market very soon as the concept car Jaguar C-X17 has debuted last year. As there were areas of improvements identified after the first show, so the vehicle is still in the process for betterment. America being the biggest sales region is expected to see this vehicle first, though in regions of Africa and Asia the car will come soon afterwards.
It is expected that adding such car to the range will help Jaguar Land Rover to meet its goal of selling 750,000 units each year by 2020. The current trend shows that Jaguar is 250,000 units behind with the 2014 statistics shows the sales of approximately 500,000 units as according to internet source.
Hence we can confidently say that entry in the Crossover market will aid in reaching Jaguar's target. This best shows that Jaguar is still in the game of sustaining its position and growing for good. We have our fingers crossed for this great company whose out of the box thinking is much appreciated in the automobile industry across globe.