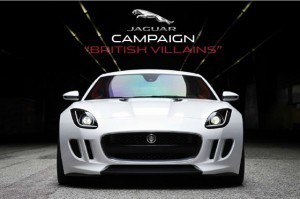 Jaguar has come roaring back from its British roots challenging its competitors of BMW, Mercedes Benz and Audi. The newly revamped campaign that highlights is bad villanous nature is ironically emphasized through a Shakespeare soliloquy in the most effective of manners.
The newly positioned campaign that highlights the "British Villains" element shows a pearlescent white F-Type hardtop stylishly making its way with few of the most famous British actors being a part of the experience. The newly marketed campaign that is Jaguar's single largest project is the US as yet aims to position the brand as a stylish yet mysteriously dangerous entity. The company is taking tremendous efforts to increase brand awareness among buyers prior to the launch of key products and models in 2016.
The aim of the brands new positioning is to get Jaguar at the same level as Mercedes Benz, BMW, Lexus and Audi. In order to do that the aim is to increase consideration and awareness to boost sales adding ahint of something different that the other brands do not offer.

Jaguar 2014 Super Bowl Commercial – British… by super-bowl-ads