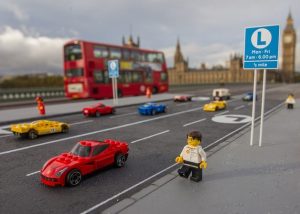 A British photographer has imagined and photographed how the streets of London might look like if LEGO only car lanes were introduced. Devised by LEGO in partnership with oil giant Shell, the series of pictures was taken by cameraman Jeff Moore to celebrate the release of LEGO's new Shell V Power Lego range.
The range will be Available for buying from tomorrow onwards. The collection includes a Ferrari F138, Ferrari 250 GTO and an F12 Berlinetta, all in miniature brick form. The trick is that each model can only be bought from Shell fuel stations, and only after spending £30 or more on Shell V-Power Nitro+ performance fuel.
Regardless of whether or not we have to cram expensive fuel into our Nissan Micras, we can't deny that we're still incredibly excited about these new mini-motors. Each LEGO lane was created by the photographer using a trestle table and smart use of angles to give the illusion that the LEGO figures were part of the everyday bustle of the capital. Along with the clever little L-signs, the pictures also manage to squeeze in some of London's most famous landmarks, including Westminster Bridge, Trafalgar Square and The Gherkin.
However, the new sets come in the middle of a rocky period in the relationship between LEGO and Shell, after LEGO announced it would end its partnership with Shell following a Greenpeace campaign. The environmental group conducted a sustained protest over Shell's proposed plans to drill in the Arctic, urging LEGO to end its long running relationship with the company. LEGO had initially resisted Green peace's efforts, saying that the charity should protest Shell directly, and that its partnership had a positive impact on Shell's image by inspiring children.
Due to immense pressure, the Danish toy company eventually gave way and announced that it would put an end to the relationship but didn't specify when. Regardless, LEGO is also due to release a range of high-performance supercar themed sets early next year, dubbed LEGO Speed Champions. Scale models of the McLaren P1, Ferrari 548 Italia and Porsche 918 Spyder will feature, along with the Porsche 911 GT and Ferrari Scuderia truck among others.Pricing for the sets won't be revealed until closer to their release in 2015, but it's expected that the sets will start from around £20.