We all are fond of listening music and it plays huge role in setting up your mood from sad to happy or happy to sad. Parties, dinners and small gathering and even weddings seem to be incomplete without music.
We are not talking about this current era but we are talking about from the evolution of the human kind. Even Birds sing. While travelling, we always require listening good music and if we forget to bring our iPod or our phone or even forgot to bring the favorite CD for our car player then that travel can easily become miserable.
Today we will bring you a solution of this big problem and off course this solution belongs to technology. Recently the service called "Roadtrip Mixtape" launched. All you need to do is. Just open road "http://labs.echonest.com/CityServer/roadtrip.html" and select your start point and your destination and hit the "play mixtape" button. You will find all the songs that belong to those places. For example if you are traveling from New York to San Francisco then you put these places in the fields and then hit the button. You will get all the songs published in that city for example "Lady Gaga and Nicki Minaj" and several other singers' songs. This service also gives 30 seconds preview of the song if you want and the back channel platforms called spotify is being used in it.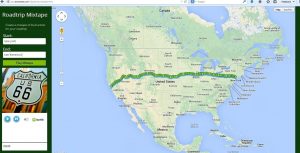 With these entire amazing features, there is a bit downside of this service. When you hit the "play mixtape" button you will find all artists' songs and that includes all. You cannot filter songs of your choice. We think it requires a minor update to get this feature and hope we will have it amazing service's app on the major mobile platforms as well.