While many parts of the world is looking for luxury option, United Kingdom is working on motorcyclist safety with an Ariel Atom Car. Like a typical atom it will be the foundation for safety mission of traffic police. It will bring in swiftness and cost saving all synchronized together.
It will have a Honda engine having the 350 horsepower with everything that make it low cost and effective option. It has more of a sports car look, though its function contradicts the typical sports cars option. Unlike the driving for thrill, it will be bringing in driving for safety philosophy on ground.
The vehicle is step towards a secure future with the style kept intact. In near future the vehicle will be bringing in two wheeler option, so walking the talk can happen. By driving the two wheeler awareness of road will be enhanced, "leading by example" will be the new motto.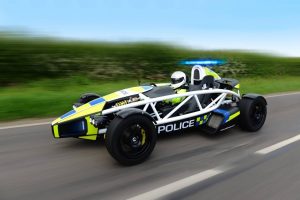 It will also be a space efficient, time specific option that will bring swift working because of the light weight and thin size. The fingers are crossed for the option and only time will tell that it will be a strategically feasible decision or not. Till then lets keep fingers crossed.