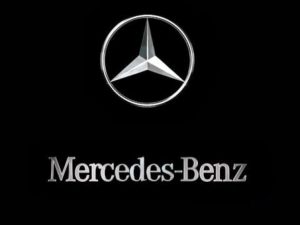 Mercedes Benz has been at alpha numeric naming scheme for longer than most of its competitors. The first car to wear the Mercedes name was known as the 35PS, a reference to its 35 metric hp output. That was back in 1900.
Not to say that naming has always been rational or consistent since then. So when Mercedes told us it was all set to revise its model naming conventions, we promised to hold off on the eye-rolling until after we studied the changes. We're glad we did, because it does actually make things less confusing.
S, E, C, B and A class is the "core model series." The automaker is giving each of its crossovers and SUVs a "G" prefix. The GL of Benz's SUV lineup becomes the GLS, The ML becomes the GLE, and the GLK becomes the GLC. The SL roadster remains the SL, but the SLK becomes the SLC. A chart should help clarify things better: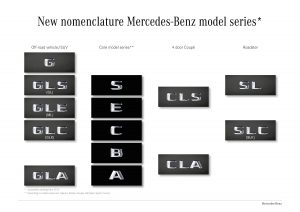 Mercedes-Benz's new model nomenclature system has a big impact on the automaker's SUV and crossover offerings. Non gasoline drive systems will be represented by a lower case letter following the numeric part of the model name. Diesels are denoted by a "d," an "e" is for electric, "h" for hybrid and so on. So, for example, the S400 hybrid becomes the S400h. Mercedes Benz says its streamlined drive system nomenclature will help make sense out of the ever expanding range of power train options.Mercedes Benz did not exactly have trouble selling vehicles lately. Neither the current naming system is keeping buyers from finding their way around a dealer lot. So, why the change?
According to the automaker, it is to help make the ongoing product onslaught — 30 models over a seven-year period somewhat comprehensible to the mortal mind. In case you hadn't noticed, the brand new CLA and GLA already tuck nicely into the new system. So there you have it: a fairly comprehensive way of referring to the ever growing Mercedes Benz lineup. You may not like it, but, it does make more sense than some renaming efforts we have seen recently. If you want to buy a Benz crossover in the coming years you better learn it as well!