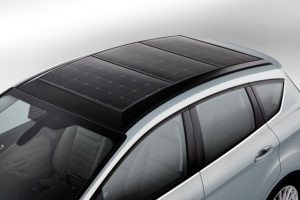 Ford has come back with a bang introducing the Ford C-MAX Energi Car that run solely on Solar Energy with high efficiency. The concept of using solar panels has already been implemented in certain vehicles but what makes Ford C-MAX Energi Car unique is the presence of the concentrator that acts as magnifying glass in the sun.
The Ford C-MAX Energi car with the fitted concentrator will take the free broad sun rays and concentrate them on the vehicle with increased and spiking intensity. Through the intensified effect, the car will be able to recharge the battery pack fitted in the car and enable it to be used efficiently. Theoretically it has been predicted that the car will be able to recharge without being fitted in electric sockets and outlets. The car is expected to make 75% of all the trips made by a solar hybrid vehicle.
Ford will put the C-Max Solar Energi on the platform at the 2014 International Consumer Electronics Show in Las Vegas.