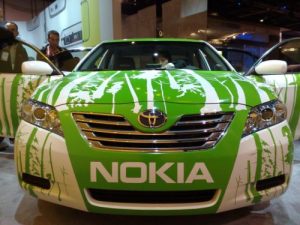 With Nokia's shocking decision to sell its hardware and services division to Microsoft last month and rubbing its hands free of the headset business, Nokia has found the perfect way to revamp its business portfolio with a huge $100 million investment. The Finnish company has been collaborating with numerous car manufacturers in order to provide HERE mapping and location services through its Connected Car Program.
With the growing interest and technological development in the automobile sector, it is now being made possible the actual hassle free connection of the driver with its vehicle without compromising on the safety of the passengers. Nokia aims to cash from this opportunity by investing in to further reshaping the tools that would allow the driver to integrate with the world around them without maximum efficiency; thus the Connected Car Program. The aim of the $100 million investment is to make the technologically advanced and cleaner safer intelligent connected cars available for commercial use at optimum price. The efficiency of sensor data and location awareness is essential in this scenario which is the forte Nokia aims to focus on thoroughly.
It is yet to see how the once cellular and mobile phone giant will pave its way through the automobile industry with Nokia aiming to rejuvenate the connected car technology in the presence of its already state of the art infotainment systems.