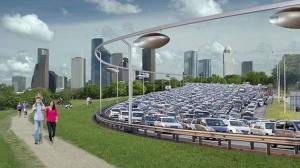 Have you ever stuck in your in a traffic?
Yes off course!!!
Today we will give you some great news. Now you will be able to fly and can get home at earliest. There is a company called Sky Tran has recently launched a vehicle concept that will enable you to commute without any hassle. The concept consists of large pillars are on the road and the capacity of the vehicle run over it is of 2 passengers. The pillars will be connected with strong track that is capable of bearing the weight of the vehicles.
This concept also support go green philosophy as the whole system will be running on electric and no carbon dioxide will be left behind in the environment. The speed of the vehicle will be 45 miles per hour and in future we will see more speed as well as company said.
The first launch will be in Tel Aviv, Israel and it will cost 80 million dollar to build and the amazing part is, the track will be constructed from Tell Aviv to France, India and even will go to United States.
All in all it seems very interesting and promising concept and we hope we will see the real implementation of it very soon.
We have also the video of this amazing concept for you. Enjoy!!!

skyTran Animated Infographic from The Collaborative on Vimeo.