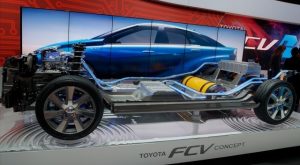 The 2016 Toyota Mirai fuel cell car offers a brand new and innovative feature that could help customers power their homes for a day or so during the event of emergency. Toyota corporation senior executives are still deciding whether to offer the same power out capability on the 200 Mirais too before marketing in US region. A power out jack and associated energy station is not  offered on any current passenger cars, therefore it would be a unique selling proposition – the Mirai's ability to generate emission free electricity and quite adequate of it too.
The energy generation capacity of the fuel cell vehicle is 5 kilograms of hydrogen compressed at 10,000 psi accounts for more than 150 kilowatt hours. While a some portion of the energy is lost during the conversion from hydrogen to electricity, the Toyota press materials say that would be enough to power a household for up to seven straight days. it does not refer to a typical household using 32 kWh a day but a typical Japanese one utilizing modest 10 kWh.
The plug itself uses a connector that connects to an energy station. It converts high voltage direct current from the fuel cell car into the 100 volt alternating current used in Japanese buildings. In view of  the 2011 natural earthquake and devastating tsunami that wiped off parts of Japan, the country government authority regulated  a "demand response" energy policy under which electricity users are asked to limit energy use during peak demand periods.
Normally, residents comply regulation by turning down air conditioner or shutting off unnecessary lights. But Toyota suggests that the Mirai's power out capability allows people to power their homes using the fuel cell as an alternative during those periods. That's the story and logic behind Nissan's Leaf-To-Home energy station too. it lets its Leaf electric car provide up to two days  power to a Japanese home from its 24 kWh battery pack. Hydrogen fuel cell vehicles could similarly provide electric power during emergencies when power grids are completely blind and disrrupted.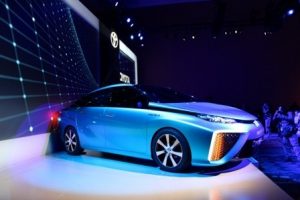 The 2016 Toyota Mirai hydrogen fuel cell sedan will go on sale in December in Japan. Toyota's North American wing is helping to fund the development of hydrogen fueling stations in Southern California and Northeastern states. The company expects to sell 3,000 Mirai hydrogen vehicles by the end of 2017. Good luck to the corporation for their completely innovative idea!