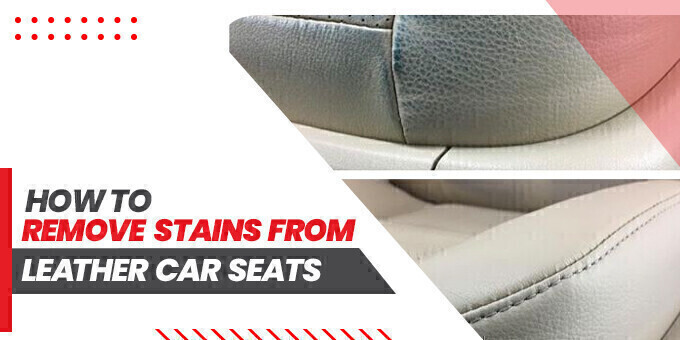 Leather seats always add a touch of beauty and luxury to vehicles. These are also pricey and require extra attention and care compared to the fabric seats. Thus, you must know how to remove stains out of leather car seats for better maintenance and keep them tidy and clean.
If you neglect the cleaning part, the overall classiness of your car will decline. It can distress the car's interior and make it bumpy for the driver and passengers.
If you're looking for good ideas to get rid of stains from leather seats, we've got you covered. Read on to find some of the best ways to carry out the task of cleaning on your own.
Tools Required for Leather Seat Stain Remover Process
Here are some tools that you would need:
1.    Vacuum Cleaner
Before beginning the scrubbing and wiping part, it's necessary to use a vacuum cleaner to clean the debris and dirt from the seats.
2.    Seat Cleaner
When focusing on how to get stains out of leather car seats, you must be prepared to buy some specifically designed cleaning agents for leather seats. A commercial cleaner can do the job perfectly. However, it's necessary to avoid agents consisting of bleach or ammonia. Or else, these can damage the leather.
Some people prefer creating cleaning liquid on their own using natural ingredients. For example, you can syndicate one part white vinegar with two parts linseed oil in a nosegay flask. Or you can use one part dishwashing soap, five parts warm water, and castile soap.
3.    Air Compressor
If you've got a stain on the leather car seat, an air compressor will come in handy to help you clean it effectively. It assists in getting rid of the stubborn particles found inside the car. You can blow these particles from different parts, even hard-to-reach areas.
4.    Microfiber Towel
It's a soft cloth that helps in cleaning leather surfaces efficiently. It's not too abrasive but can easily remove dirt. If you're looking for how to remove stains from leather car seats, the towels are convenient.
You'll need two of these. One will be sprayed with the cleaner to wipe out dirt and another dry to wipe away the cleaner and dirt.
5.    Leather Conditioner
In many cases, the leather's natural oil gets dry with time. Thus, it gets dry and cracks, making the car seats look ugly. For this, you'll need a leather conditioner to keep it moist with essential oils. It works as a temporary protective coating that fights against abrasion and heat.
Along with other benefits, the leather conditioner is also suitable for enhancing the leather's vibrancy. For better results, opt for water-based conditioners that are pH neutral. Don't buy the petroleum and waxes one.
6.    Soft-Bristled Brush
A brush is essential for removing stains on leather car seats. If you're searching for how to get stains out of leather car seats, the internet will suggest buying soft-bristled brushes—these help in gently removing dirt and cleaning the seats before applying any cleaning agent.
How to Get Stains Out of Leather Car Seats?
Using the right tools and cleaning agents is necessary to keep the interior intact and maintain the aesthetics of leather seats. Once you've got these tools, follow the below-mentioned step by step process to remove stains on the leather car seat:
1.    Check Out Seats for Any Damage
Before you begin, thoroughly check the leather seats for any perforations or damages. If there are any, deal with them cautiously. There might be any scratches, tears, or holes which require your attention. Also, these must be dealt with cautiously.
If you don't check, there's a probability that the cleaning agent seeps through the wear and tear. It can damage the inner foam badly. If you find any, avoid spraying directly on them. You'll have to use a bristle brush and a microfiber cloth for this.
2.    Start with Vacuuming the Dirt
The next step is to remove the dirt and debris from the car seats. Thus, a vacuum cleaner is best for this. If you attempt doing it any other way, there are probabilities of scraping and ripping the seats. So, be careful and remove all the stubborn particles. Along with this, an air compressor can help in the process.
3.    A Spot Test
Now, before you start applying the cleaner, perform a spot test. Don't miss this test if you're cleaning your car for the first time. A spot test can help ensure that the cleaning agent suits your vehicle.
So, apply a bit of the cleaner on a discreet seat area. Then, wait for a few minutes. If you observe any changes or discoloration in the area, stop right there. If not, it means that the cleaner is safe.
4.    Use Microfiber Towels to Clean off the Grime and Dirt
We've seen people don't clean their car seats very often. Hence, a layer of dirt and grime accumulates on their car seats. If left for a long time, it can harm the car's interior. So, once you spot any dirt on the surface, it's recommended that you clean instantly.
After you clean using a vacuum, spend a few minutes rubbing and wiping the seats with a microfiber towel. Do it gently.
5.    Profoundly Clean with a Soft-Bristled Brush
The soft-bristled brushes are a must when you're eyeing how to get stains out of leather car seats. Apply some cleaner on the car seats and then gently scrub with a brush. It will remove the dirt and grease stains from the car without affecting the surface and leather texture.
Some people scrub harshly, don't do that. Putting too much pressure can result in damaging the seats. So, be cautious and use a minor quantity of cleaning agents. Spray and scrub adequately to get the seats cleaned.
6.    Wipe the Seats
Now, wipe away all the cleaning agents and dirt using a dry microfiber cloth. It's best to ensure that you don't leave any residue. If not, it can leave the seats smelly and sticky.
So, wipe carefully until the seats are completely dry.
7.    Use a Conditioner
Conditioning the car seats is another important step when learning how to get stains out of the leather car seats. Buy a good car conditioner and apply it to the seats. If you're using it first, perform a spot test.
A small amount of conditioner can do miracles. Use this and rub gently with the cloth in circular motions. Then, leave it for an hour or so and let it soak. During this period, make sure your car is parked under a shade. The conditioner acts as a good polish for the seats and looks shiny and new.
Final Thoughts
The bottom line is that leather car seats require more attention. You cannot let the seats deteriorate. The steps mentioned above and tools for how to get stains out of leather car seats can help you go a long way.
It's best to spend some time cleaning and conditioning the leather seats to keep them excellent and shiny. Make sure you've got the right tools and cleaning agents.