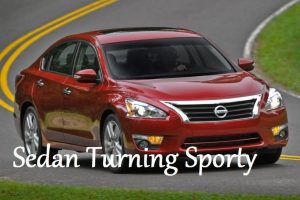 You heard it right, we as automobile drivers always talk about an ideal sedan that can give a sports experience. But it is always considered as a dream as sedan is more practical with comfort in focus, while the sports car need to be more thrill filled putting comfort on the side. Hence we always thought we can talk about it but will never see one.
Our pessimist perception came to an end when Nissan launched "Ride Your Life" Campaign in America. The basic purpose was to highlight what Nissan Altima 2014 model can do. In the event organized real people were selected for a racing experience.
The car l0oked and felt completely as race car and was able to satisfy need of customers for thrill yet there was a comfort factor strangely experienced. When the dressing was unveiled people went state of shock as it was a sedan that gave them sporty experience.
The top notch brains have team up for the huge marketing campaign with print and electronic media support for creating huge hype. It is believed that social media free publicity will also happen because it is something that is long awaited and will carve niche.
Only time will tell, if this endeavor will be able to see the face of success. Although expectations are quiet high.