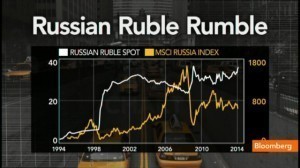 The hottest and most infamous topic of 2104 has been the annexation of Crimea by Russia from Ukraine facing a huge wave of opposition from the West and the European union. This has resulted in numerous bans and impositions on the business activities in Russia from foreign investors showing consolidation against Russia and their overpowering of the sanctity of the international law. This has resulted in the economic instability of the super power with its currency Ruble dropping by 11%.
Due to investors pulling out from numerous projects that had been established on a wide scale, it is expected that Russia's economic backbone will take a severe blow. This has already started affecting the automotive industry in the country with companies like Ford shutting down operations until further notice effecting the supply and demand chain in the country. On one side this is a major economic hurdle for Russia, but on the other hand it will enable the local car manufacturers to take a proactive role in fulfilling the auto demand on the country with by reducing foreign dependence of automobile, body parts and other components.
According to the Alexei Rakhmanov, the deputy minister of Industry and Trade, this news comes as a positive opportunity for the country as will it result in a deeply localized and self sustainable industry. The growth has expectedly slowed down by 6.5% in the worst case scenario but the related endeavors in this regard ar expected to sustain the economy.