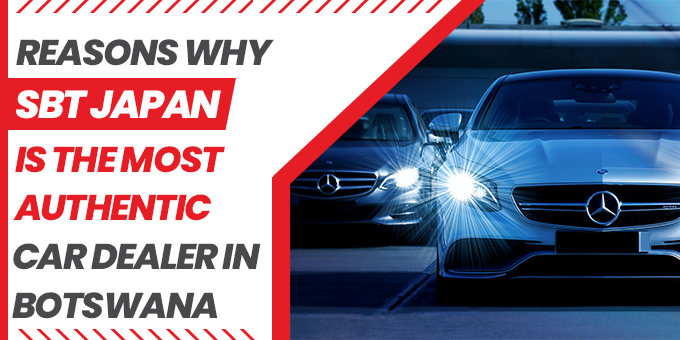 In the process of purchasing a car, many individuals concentrate on finding the ideal automotive dealer in Botswana. They want to be sure they are getting the worth of their money since it is a pricey purchase. There is no such thing as a walk-in used cars dealers in Botswana. Scammers abound in the marketplace.
In the world of car dealers in Botswana, SBT Japan is a leader. SBT will provide you with the cars for sale in Botswana, Mogoditshane you choose if you give it a name. In general, it is a really fast and easy procedure. With SBT, you do not have to be concerned about the authenticity of vehicles.
SBT Japan reviews are a good place to start if you want to see what other people are saying about the company. It is still important to obtain additional information about SBT Japan and its practices if you believe the firm is legitimate or trustworthy.
SBT Japan was founded in 1993 and annually serves millions of customers worldwide. SBT Japan facilitates acquiring and exporting old automobiles from Japan, Korea, Europe, the United States, and other nations. In addition, SBT Japan ensures that all cars fulfill the compliance and regulatory standards of the country. Additional insurance is available for a price against a wide range of possible dangers.
So, if you are looking to purchase an automobile, SBT Japan is a reputable and trustworthy car importer in Botswana. You may also read consumer reviews of SBT Japan on the internet. Astonishingly, the organization serves a diverse range of clients with consistently high-quality and prompt service throughout the whole documentary.
If you are wondering whether SBT Japan is the right choice for you? Here are five reasons why you should choose SBT Japan.
1.    Wide range of Vehicles
SBT Japan holds range of wide variety of vehicles to choose from. There are many automobiles, including sedans, SUVs, pick-up trucks, and sports cars, all of which fall into distinct categories. They have established high-quality standards and prioritize providing vehicles that live up to those criteria.
Regardless of vehicle you are searching for, SBT Japan will have it for you. The online evaluation of SBT Japan shows that it professionally does its business. They take precedence over customers' convenience and happiness throughout the process.
2.    Reputable Retailers
SBT Japan evaluations show how they are meeting the needs of their clients. The vehicle company has focused on dependability for the last two decades. In terms of customer service, the organization focuses on the demands of its clients. Overall, this is a customer-focused business that employs various methods and techniques to make sure that they are happy.
High-quality secondhand Japanese automobiles are available via SBT Japan. These are properly examined and tested. You can depend on licensed merchants to assist you at any time. You may contact a salesperson for additional information about the procedures and availability of autos.
3.    Easy Process
Many individuals throughout the globe have been relying on SBT Japan to meet their demands. As a consequence, selecting, purchasing, and receiving the desired vehicle has been made easy and rapid. Customers may compare automobiles on the official SBT Japan website and choose the one that best suits their requirements.
According to the SBT Japan reviews, the personnel and team are constantly on hand to make the procedure easy for customers. Consequently, clients may import and purchase Japanese secondhand automobiles more easily.
SBT Japan has carved out a significant niche for itself in the industry by making things as easy as possible for its consumers.
4.    Compliance
Many vehicle enthusiasts and professionals have shared SBT Japan reviews. To them, buyers get a first-page experience from the firm. Their main website is simple to use and packed with useful and relevant content.
The firm has a global reach and has adhered to all local and international rules. SBT Japan assessments demonstrate that the firm complies with all legal rules to guarantee that all stakeholders are satisfied.
5.    Inexpensive and Quick Delivery
SBT Japan reviews on the internet show that clients are overwhelmingly pleased with the speed and efficiency of the company. However, customers are often concerned about deliveries and shipping while making a car purchase. Because of this, they are anxious for the process to go successfully so that they may get their automobiles as quickly as possible.
A tight policy of rapid shipments thereby guides the business practices of the firm. The firm has a fast delivery record on a regular basis.
How Reliable Is SBT Japan as an Automobile Dealer?
'Is SBT Japan legit?' has been a common question on social media. A car purchase is one of the most significant decisions in a person's life. It necessitates a significant investment in terms of both time and resources. For a vehicle, you cannot simply go to any dealership.
Most notably, while driving a Japanese automobile, it is impossible to miss SBT Japan. The answer to the question "is SBT Japan authentic?" is yes. Certainly, it has built a solid reputation in the motor industry.
Its reviews reveal that it has always impressed clients. Providing improved services and ensuring client happiness is at the heart of the objective of the company. It is no surprise that SBT Japan has a large stock. As a result, they strive to provide automobiles to customers as quickly as feasible.
Last Thoughts
SBT Japan has been a significant player in the automobile sector for more than two decades. Increased revenues are a direct result of the worldwide growth of the company. The legitimacy of SBT Japan has been established, in case you were wondering, due to their satisfied clientele.
The methods and tactics have evolved and improved through time as well. Customers from a variety of demographics have been drawn in and maintained as a consequence of this.