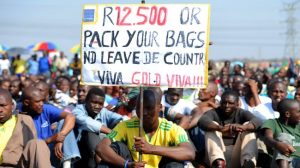 One of the most solidified and unity strike in the history of South Africa has left the prices of platinum and palladium rising as the demand for automobiles increase in the country. The massive strike well into its 11th week is being held by 80,000 miners raging against the minimum wage provided to the workers. The demand for increasing their monthly wage to 12,500 rand that is around $1,186 has held the protesters firm in their stance.
The repercussions of the strike has been affecting the price of minerals specially that of platinum and palladium with the increasing auto demand. The price of platinum has increased by 3.1% in a week while that of palladium rose to 2.3%. This spike in prices has been due to the unavailability of the material needed for the production of automobiles and its growing demand. Reputed companies like HSBC and ETF has spoken against the striking activity that have deemed companies unable to continue their operations due to the setback. According to the statement made by ETF it was highlighted that three of the major platinum producers had already warned their suppliers of their inability to make deliveries in the current circumstances.
It is therefore being predicted that the resulting strike will not only ensure price increase of the metals in discussion but will also result in increasing demand and thus increasing price of the automobiles.