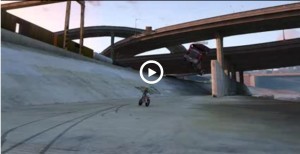 Terminator movies are exciting, challenging and adventurous, having a transforming impact on those who like it. While video games are hot favorite for children and even adults to do things, they are unable to do in real life. The merger of the two makes a tantalizing experience hard to describe in words.
Working on this Grand Theft new version have the Transformer 2 truck chase with everything you do not expect a truck to bring in. It jumps off highways, chase like a leopard and make sure that hard time is experienced by bikers. The maneuvering, speed and performance typical to sports are shown with the weight of truck. It is said by many that such experience in real life is next to impossible.
The red truck has all it take to bring in passion in full go, giving the players a real chill in bellies. The game will be a positive point in enhancing responses and magnifying brain functioning, giving it new levels.
The bloopers are also attached in video to give you a fit of laugh with venerability of experts. So no matter how many times you try, make sure you remain consistent until you win. As even the expert made this video after a number of trials and experiencing a lot of errors. Happy Playing! Try until you win.
Check out the video and give feedback: