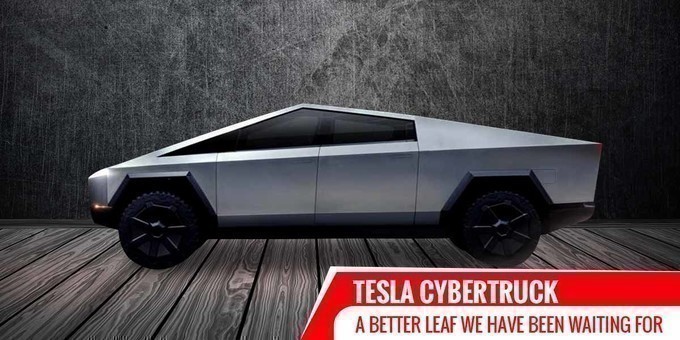 The rumor mill is overflowing and the internet is buzzing about Tesla CyberTruck. It looks more like a stealth fighter with a big wheel and an all-conquering style and demeanor. It is an all-new, all-electric battery-powered light commercial car that has recently made its public debut with the official tagline "better utility than a truck with more performance than a sports car". The Tesla Cyber Truck is a lone automotive and the most polarizing creation to date that has single-handedly overshadowed the entirety of the Auto Show in L.A.
Overview
Tesla by keeping its brand promises have come up with the launch of the bold, daring and frankly brilliant Cyber truck. It is more than a pickup and an armored fortress that can accommodate the family of six individuals. As an automaker's first pickup, the flagship offers three different trim choices. Bulletproof body, shatter resistance glass and undoubtedly the winning strength in the tug-of-war test set it apart from the crowd. The truck is committed to deliver sustainable energy alternate. It is also built to replace the ever-increasing demand for fossil fuel-powered trucks and vehicles in the USA.
Features and specs
The speculations and the industry news have unveiled that the flagship will cover three variances. These three models named Single Motor Rear-Wheel Drive, Dual Motor All-Wheel Drive, and Tri-Motor All-Wheel Drive respectively.
Instead of the conventional body on frame construction, this time Elon Musk has followed a different approach. Besides revolutionary exoskeleton, this jet-powered aircraft has an autopilot, adjustable air suspension, 16-inch of maximum ground clearance and much more to deliver the space-age design. Moreover, it integrates power inverters to enhance speed is supplying 120 to 240-Volt electricity.
Awesome and Versatile
The vehicle encloses up to 3,500 pounds of payload capacity, an adjustable air suspension and engineered with lockable storage capacity. It is also capable to pull infinite mass and a towing capacity of over 14,000 pounds. It means the vehicle has the potential to deal with extremities with ease.
Rugged and refined inside space of Tesla Cyber truck integrates an advance 17-inch touch screen. It is offering all new customized user interface as standard.  It is even more exciting to know that the versatile utilitarian design of the vehicle is capable to accommodate ever-changing commuting needs of both city dwellers and adventure seekers. Powerful drive train and low center of gravity are providing an extraordinary traction control and decent torque. This mixture of power-enhancing aspects is lending it credence over rival. The under the hood power derivatives are enabling it to accelerate from 0-60 mph in 2.9 seconds and covers the range of 500-miles.
Verdict
From an impenetrable exoskeleton to every inch of the design details, it is delivering strength, endurance, and durability. It is one of the most futuristic vehicles that are buzzing around the corner to resolve the myth of sustainable energy.
Though it took nine dedicated years from Tesla. 250-mile range, 3400kg of towing capacity and self driving capabilities of the vehicle will definitely make it last long. This "sweet" electric workhorse with crazy torque and dynamic air suspension is going to rule over the heads and hearts of people for years to come.