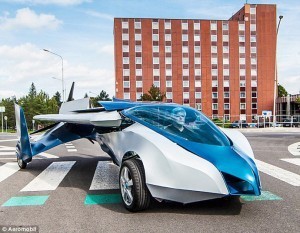 If you have ever fantasized to travel on earth as well as in the sky and been inspired by the futuristic movies regarding the future automobile industries, know that future is here. The first ever flying dream car is ready to unveil itself in October by co founder and chief designer of aeromobil, Stefan Klein. He has the remarkable ability to mix design and innovation and devoted untiring twenty years to make dream come true. He had responsibly led innovative research projects for companies such as Audi, Volkswagen and BMW, his passion for flying made him the co-founder of Air Explore family. The other team members supporting Stefan in the project are Juraj Vaculik Ladislav Batik, Martin Bruncko, Stefan Vadocz , Erich Ostrcil, Igor Rumanovasky and Robert Mucska.
Aeromobil flying car is the perfect combination of car and plane. In terms of automobile configuration, it fits to a standard parking space, its engine enables it to tank at any gas station, it is fully fit to road traffic and as a plane it could both take off and land at any airport in the world. AeroMobil 3 is stylish and comfortable for both the driver and passenger, and exceptionally combines the performance of a sports car. Aeromobil flying car can reach up to 124 km/h in the air while on the roads it will run with a top speed of 100 mph and a driving range of 310 miles. No word on pricing or availability has been mentioned yet, but it looks like AeroMobil is major step closer to the bizarre dream becoming reality.
AeroMobilis about to bring the flying car at the Pioneers Festival in Vienna, Austria in October as exquisite flying car.The Aeromobil flying car will show its first glimpse in the world premiere on October 29, 2014. So we wish the very best of luck to the entire team who did extremely hard work to make this innovation and hope that the dream car could be a breakthrough for the corporation and its members.