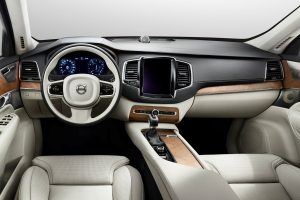 When it comes to luxury in car then first thing in your mind comes is high tech interior and comfy seats and dash board crafted with premium materials like wood or leather.
Mercedes, BMW, Rolls Royce, range rover are big names in luxury vehicle manufacturing. Yesterday Volvo a Swedish company whose headquarter is situated in Gothenburg, Sweden, has become a part of ultimate luxury vehicle manufacturing company with its brand new Volvo XC 90. The ultimate SUV with exceptional comfort.
The dash board is consisting of huge tablet like screen which is actually a button less. You can even connect your phone over the Bluetooth as well. You can enjoy seamless music and the other features are climate control, GPS navigation. The seating of the amazing SUV is also very comfortable and a gearshift lever is made of Orrefors crystals so when you touch the lever you will feel the prime luxury of Volvo. Orrefor is the premium glass maker of Sweden.
The story has not ended here. The arm rest of the car is made up of dark flame birch wood with amazing controls consist of diamond cuts for engine start or stop and will volume controls. Back seats are also very luxuries with vents for massage and air-conditioning.
Although Volvo hide some secrets that will be revealed later this summer. The pricing is also not mentioned for this ultimate luxury but we are sure it will come with a very hefty price tag.
This Volvo CX90 will be the direct competitor of the Acura MDX, Buick Enclave, Lexus GX 460 and Mercedes-Benz GL-Class.
So its summer 2014 and we recommend you to wait until the end of this summer because we know other automaker will show their cards as well. It will definitely help you out to take the right decision to buy this type of luxurious car.