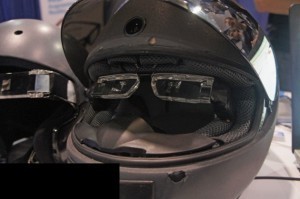 Have you ever heard of smart food? No… We have not either 🙂
Let's forget about food and start talking about smart helmets.
Yes it is true it's now a reality. Soon we will have smart helmets that alert you even before accident.
it is not the only feature there but it can find a gas station for you. There are several modes available on this amazing piece of technology. These helmets are equipped with voice command system that takes input from your voice and act accordingly. You can even take a picture of the road while riding a motorcycle.
Different modes are also available that can be activated over your voice like urban mode, Touring mode and Go mode.
These smart helmets are built on augmented reality technology that captures the real time footage and post virtual screen on a transparent screen of the helmet.
This is not a first time we are seeing this type of technology. We also witnessed Google made augmented reality glasses called "Google glass", quite hit these days and are available at a steep price of $1,500.
The manufacturing company of these smart helmets is planning to launch this product with a help of crowd funding by mid of July and final product will hit the market in a year.
We hope this product will be a huge hit and it also will open the doors of app development to developers and the possibilities can be limitless.
Like this amazing helmet?
Click on the video link below.

Introducing the GUARDIAN, the world's smartest motorcycle helmet. from FUSAR Technologies on Vimeo.