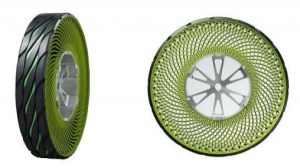 Are you frustrated with your car tire puncture, especially when you are in hurry for your office meeting or making to be somewhere urgently?
We know your answer 🙂
Now don't worry you don't need to bring all tools and spare tire with you at all. Thanks to this technological era that leads new innovations in car technology.
Bridgestone, famous tire manufacturing company has come up with airless tire. These tires are not like traditional tube less tires. With these airless tires you don't need to worry about puncture.
Bridgestone show cased this amazing technology at "Tokyo Motor Show" and company is on the verge of making it for masses.