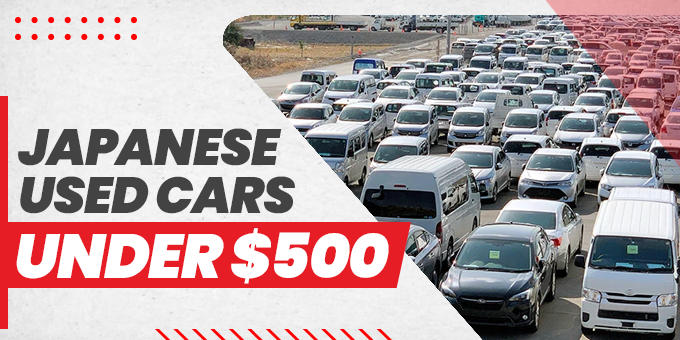 In the world of affordable transportation, Japanese used cars for sale in Zimbabwe have garnered significant attention. These budget-friendly vehicles provide a practical solution for individuals seeking reliable mobility without breaking the bank.
In this article, we discuss the most popular Japanese used cars under $500. So, let's take a look.
Popular Japanese Cars under $500
If you are looking for Japanese used cars under $500, here are 5 vehicles you can consider from SBT Zimbabwe:
The Honda Fit Hybrid has a gasoline-electric hybrid powertrain that integrates a 1.5-liter four-cylinder engine with an electric motor. This combination improves fuel efficiency and also improves the responsive acceleration for urban commuting.
The interior of the Fit Hybrid exudes practicality and comfort. While the vehicle appears compact, there is ample room in the cabin for front and back-seat passengers. The versatile "Magic Seat" configuration allows for various seating and cargo arrangements, making it adaptable for different needs.
The infotainment system in the Fit Hybrid includes a touchscreen display that supports smartphone integration through Apple CarPlay and Android Auto. This feature enhances convenience and accessibility to navigation, music, and hands-free communication.
Honda strongly prioritizes safety, and the Fit Hybrid is no exception. It comes equipped with Honda Sensing, a suite of advanced safety and driver-assistance technologies that includes features like adaptive cruise control, collision mitigation braking, and lane-keeping assist.
The Nissan Note boasts a diverse range of gasoline and hybrid powertrains, ensuring flexibility to meet diverse preferences and driving habits. Additionally, the hybrid variants stand out by offering superior fuel economy and emitting fewer pollutants.
Moreover, a key highlight of the Note lies in its meticulously crafted interior design, tailored for both versatility and functionality. Notably, users can configure the rear seats in multiple ways, creating substantial cargo space and accommodating items of various sizes.
Furthermore, the Nissan Note integrates modern connectivity features, enhancing the overall driving experience. The infotainment system may include cutting-edge touchscreen displays, seamless smartphone integration, and Bluetooth connectivity, facilitating hands-free calls for a more connected journey.
Nissan strongly emphasizes safety, and the Note often comes equipped with advanced safety features. This can include automatic emergency braking, lane departure warning, and blind-spot monitoring, which allows you to drive safely. You can easily get the best deals on Cheap used cars for sale in Japan.
The performance of the Nissan Note is inherently focused on efficiency and everyday usability. Consequently, this renders the Note eminently suitable for both city and highway driving scenarios. Moreover, owing to its compact nature, the Note exhibits remarkable agility, facilitating seamless maneuverability through congested city traffic and effortlessly navigating tight parking spaces.
The Toyota Vitz is another top choice among Japanese used cars under $500. First, it is a compact car, making it ideal for commuting in the city through tight spaces. Its small footprint and tight turning radius contribute to its agility in urban environments.
The Vitz is typically available with a diverse range of gasoline engines; furthermore, these engines are designed to strike a perfect balance between fuel efficiency and peppy performance. Notably, you can easily select an engine that precisely meets your specific driving needs. Moreover, its compact size and efficient engines synergistically contribute to excellent miles per gallon (MPG) figures. Consequently, this makes it an ideal choice for both daily commuting and long drives alike.
Despite its size, the Vitz has a comfortable interior. The cabin is spacious, with easy-to-reach controls and enough space for passengers. Depending on the trim level features such as touchscreen infotainment, smartphone integration, and advanced driver-assistance technologies may be available.
The performance of the Toyota Vitz is geared towards practical urban driving. The engines, while not designed for high-speed racing, provide sufficient power for city and highway cruising. The compact dimensions and responsive steering make the Vitz easy to maneuver in traffic and parking. Visit SBT Zimbabwe to get more offers.
This combination allows the Aqua to operate in electric mode at lower speeds, minimizing fuel consumption and emissions in urban settings. It boasts a contemporary design, leaving behind an economical footprint, making it ideal for city environments and crowded streets. Its sleek shape boasts its efficiency and also lends it a modern and appealing appearance.
Inside the Toyota Aqua, drivers and passengers will find a spacious and comfortable cabin. There is enough space for both front and back occupants. Depending on the trim level features such as touchscreen infotainment and smartphone integration may be available. Get the best deals on used cars for sale in Zimbabwe now!
Fuel efficiency is a central theme of the Toyota Aqua. The hybrid powertrain optimizes the use of electric and gasoline power, contributing to exceptional fuel economy figures. This not only leads to savings at the fuel pump but also reduces the vehicle's environmental impact.
The Toyota Aqua is an efficient vehicle, especially for eco-conscious drivers. The hybrid powertrain delivers smooth acceleration, particularly in city traffic where electric power is in use. The transition between electric and gasoline propulsion is seamless, allowing one to achieve a refined and balanced driving experience.
The Toyota Probox Van from SBT Japan is famous for its generous cargo capacity. Its boxy design maximizes interior space, making it an ideal choice for transporting goods, and equipment, or even as a delivery vehicle. The flat load floor and tall roofline further enhance its cargo-carrying capabilities.
Built to withstand demanding usage, the Probox Van boasts a durable construction that can handle various types of cargo and road conditions. This durability contributes to its reputation as a dependable workhorse.
While the Probox Van's interior maximizes utility, it provides comfortable seating for occupants. Depending on the configuration, the cabin may offer a bench seat for passengers or a more open layout to accommodate larger items.
One of the striking features of the Toyota Probox Van is its cargo capacity. The spacious interior is customizable to suit different cargo needs, making it favorable for commercial use. The tall roofline allows for easy loading and unloading of items, and the boxy shape maximizes usable space.
The Toyota Probox Van gives reliable and durable performance. Its engine, while not designed for speed, can deliver steady power for daily driving and transportation tasks. This reliability, combined with its sturdy build, ensures that the Probox Van can handle the rigors of commercial use.