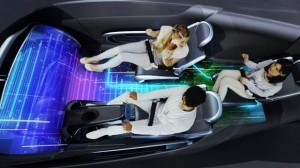 Touch Screens! Touch Screens all round. That's what you are going to find inside the Audi Prologue. On the dashboard display area, to the left of the driver, right in the front of the gearshift, center of the dash, and on the right hand side of the passenger. It is obviously clean and attractive, but does it mean the end for buttons legacy?
Concept and super cars often formulated with crazy and unrealistic interiors. the purpose is more to show off a designer's vivid and creative imagination than anything else. It is rare for most of them obviously to preview an actual production car before its done, especially  something as theoretical and detailed as the Audi Prologue. The screens have become main and integral feature of cars over the last five years or so. It is hard to find a new car int he market without a center display. Digital dash displays are quite common and some of them are actually exceptional. So does it really have to stop to that?
Automobile manufacturers have been experimenting with new and exciting ways to utilize interior for a long time. Having more screens that are conveniently accessible by passengers seems like a reasonable step ahead from what we have today. Much has been offered in the Virtual Cockpit of the 2015 Audi TT. One of the aspect is its single large screen on the instrument cluster directly positioned in front of the driver.
If your passenger wants to tune in the music or use the navigation system while you are driving, well, they probably have to lean over to get to the the only screen on the car. Audi however says that the passenger can dial in an address to the navigation system screens on their side, and  send  over the message to the driver using a swiping motion, that's pretty helpful and useful.
So it's quite interesting to see Audi heading towards a completely opposite direction with the concept car they say is their future launch. From their  news release on the Prologue it is evident that Audi and possibly other car makers will stop speaking and thinking screens and set multimedia systems as separate units tacked onto the dashboard in future. The new concept would be much more integrated to the actual design of the interior, rather than afterthoughts!