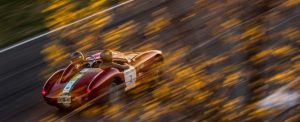 The Tour Auto Rally is one of the most remarkable rallies held in France for the past 23 years show casing state of the art prestigious vehicles which were present in the historic Tour de France Automobile rally between 1951 to 1973. This year's Tour Auto Rally was held at the Grand Palais, Paris from 7th till 12th April 2014. The event brings forward the competition between historic rivalries each aiming to out do the other at the reputed event.
Each year witnesses the renewal of the route the rally takes on. The rally took its start from the traditional Grand Palais where numerous cars were show cased for the Parisian enthusiasts followed by a complete course starting from the east of France and concluding the race in Marseille. The 23rd Tour Auto Optic 2000 was elevated to a new level with the beauty of its innovative route and flashy ambiance admist the presence of 25 nationalities and exceptional and famous drivers like Olivier Panis, Erik Comas, Emanuele Pirro (5-time winner of the Le Mans 24 Hours), Jürgen Barth, Armin Schwarz, Rauno Altonen, Pierre Ragues, Christian Balas and Jean-Claude Basso. A massive crowd was present on the occasion to personally witness the the flock of vehicles on the astounding track including the likes of Renault 4C, Ferrari, Aston Martin, Porsche and others.
The event witnessed the famous rivalry for first place between the British crew of Shaun Lynn and Kevin Kivlochan in their AC Cobra and the E-Type Jaguar driven by French duo of Jean-Pierre Lajournade and Christophe Bouchet.