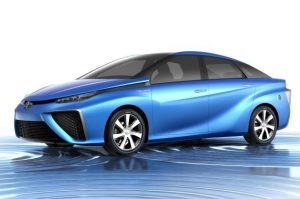 Toyota, a prestigious automobile company from Japan, has recently showcased its fuel cell car called Toyota of FCV concept and in this concept Toyota used hydrogen fuel cell technology that runs your car without emitting carbon dioxide in the air. In contrast with electric vehicles in the market the car runs on an air.  Toyota now has a competitive edge over its competitors in terms of continuous commuting as in other electric vehicles the battery drain is very rapidly. But in this technology you can travel hundreds of miles without a charging a car. Toyota is also building hydrogen fuel stations throughout the United States the deal with the power hunger of these hydrogen fuel cell cars.
When it comes to pricing of this Toyota car we must see Toyota is playing very aggressively as the company is such an amazing thing's price is same as base model of Tesla. This model will be ready by next year in United States and Europe 69 thousands us dollars. There is only one competitive edge that Tesla model S have and that is free electricity charging of its all models throughout the life.
With all these amazing features we are still doubtful that this car will be a success in the future as it totally depends on what people will prefer between electric vehicle and this fuel cell vehicle.
Enjoy a video below!!!